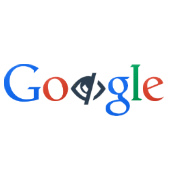 So European Union courts have forced Google to forget certain people's irrelevant or outdated online histories.
Within days of the court order going into effect, EU citizens were mobbing Google with requests to have their pasts expunged, at the rate of 10,000 requests per day.
The backlog of requests had reached 50,000 as of a week ago, according to Chilling Effects.
But the buried pages haven't technically been killed, nor have they been erased.
Regardless of what the directive is being called, courts technically didn't grant Europeans the right to be forgotten. Rather, it gave them the right to be relatively obscured, by having eligible pages flagged so they don't show up in search results.
The data is still out there. And now, a newly launched site is archiving the forcibly de-indexed pages, in the name of opening up to the internet as a whole the discussion regarding what should or should not be "forgotten."
The site, Hidden From Google, states that its purpose is to list all links being censored by search engines due to the recent EU decision.
From the site:
This list is a way of archiving the actions of censorship on the internet. It is up to the reader to decide whether our liberties are being upheld or violated by the recent rulings by the EU.
The debate concerns the public's right to knowledge vs. censorship.
As it is, thousands of takedown requests have come from parties and individuals, including huge banking companies, a politician with a murky past, a convicted paedophile and a man who had attempted to murder his family and wanted to remove links about his crime.
Hidden From Google isn't comprehensive. It doesn't automatically archive all newly buried sites.
Rather, it relies on a community of users, journalists, and advocates who submit links and verify updates.
In fact, as of Tuesday, it was showing only a dozen Google-expunged sites, along with a note informing visitors that some links previously censored by Google in the EU are no longer being censored – hence, they've been removed from the site.
Hidden From Google was launched by Afaq Tariq, a web developer from the US state of New Jersey.
Tariq, for his part, says he isn't actually sure whether the right to be forgotten should win out against the public's right to uncensored knowledge.
He is, however, committed to bringing the debate out into the open, he told Motherboard:
Whether I agree with the concept or not, it is a perfectly legitimate way to archive the actions of this societal decision so an open discussion can take place on its impact. I built it with the notion of it empowering a fairly equipped debate.
Chilling Effects – a clearinghouse for takedown requests from the Digital Millennium Copyright Act – hasn't yet figured out if it can, or should, catalog all the sites removed in court-ordered takedown requests.
Chilling Effects staffer Emily Hong explains in a blog post how tricky it is to figure out how to weigh the demands of privacy and freedom of expression:
Given the inherent subjectivity of the content, right to be forgotten requests promise to be even more ambiguous than copyright claims. Formulaic notice services are thus even more likely to upset the balance between privacy and freedom of expression by making fraudulent requests both easier to send and harder to detect.

In a pool of 50,000+ incoming notices, a false positive rate of just 0.1 percent would amount to 50 individual cases that result in the harmful loss of speech. Magnify that by several orders of magnitude...
Media outlets are already crying foul about the takedowns, and it's easy to see why. One of the first links I clicked on Hidden From Google was about a Parisian Post-It war featuring multicoloured sticky notes competitively stuck to office windows.
It seemed innocuous enough to me. Why would anybody object?
Was it a company that didn't want to be embarrassed by the idea that its workers spend large chunks of time forming mosaics of bitmaps, such as one of SpongeBob SquarePants?
The more we hear about the right to be forgotten, the worse it sounds to me.
I want to know about politicians' murky pasts. I want to know if somebody's been convicted of child abuse.
I want to read about French cubicle workers wasting time doing something clever with office supplies.
It's a big, mucky world out there, and we should be able to see all of its warts.
Do you agree, or do you think I've lost sight of privacy rights? Please share your thoughts in the comments below.