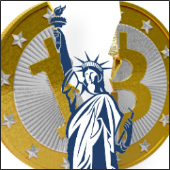 New York on Thursday became the first US state to announce proposed rules tailored specifically for virtual currency firms like Bitcoin and related businesses.
The proposed regulatory framework the state wants to wrap around Bitcoin is striking some as being too close to a straitjacket.
For one thing, the rules would require that company founders and employees submit to fingerprint and background checks and that the companies retain 10 years of transaction records.
The proposed framework includes consumer protection, anti-money laundering compliance, and cybersecurity rules.
Benjamin M. Lawsky, Superintendent of Financial Services for New York State's Department of Financial Services, classified the framework as comprising "common sense rules of the road" meant to protect consumers and root out illegal activity without smothering innovation.
The New York regulatory powers took the unusual step of asking the Reddit universe for input.
Lawsky said this in a Reddit posting:
We recognize that not everyone in the virtual currency community will be pleased about the prospect of a new regulatory framework. Ultimately, though, we believe that setting up common sense rules of the road is vital to the long-term future of the virtual currency industry, as well as the safety and soundness of customer assets. (We think the situation at Mt. Gox, for example, made that very clear.) Moreover, given that states have specific regulatory responsibilities in this area, we also have a legal obligation to move forward on this framework.
Lawsky's mention of Mt. Gox is a reference to the ultimate virtual currency SNAFU.
The exchange, to which people went to convert between Bitcoins and conventional currencies, bled out over the past few years, a victim of both hackers and its own inability to keep track of its Bitcoins.
Mt. Gox suspended trading in 2014, filed for bankruptcy protection and began liquidation proceedings in April after confessing it couldn't quite figure out where it had put a stash worth about $480,000,000 (£281,000,000).
To nobody's surprise, regulators are stepping in, with New York being the first to put together a plan to avoid crashing into future Mt. Goxes, et al. (or, as some suggest, to get its fingers in the pie).
But Lawsky's acknowledgment that not everybody in the virtual currency community would be pleased by the rules was rigorously supported by an outpouring of unmitigated Reddit scorn.
One of many aspects of the proposed rules that the community scoffed at was the fact that they would only apply to virtual currency or virtual currency-related companies doing business in New York, regardless of where their customers actually live.
From redditor historian1111:
[Section 200.2n.5] is probably the most absurd. Altcoins are just open source code. The creators have no way of knowing if NY residents are using their code. ABSURD!!
…which brings up another aspect of the rules that's unnerving people: the perceived loss of anonymity it will bring about.
From redditor crawlingfasta:
I definitely don't consider myself a privacy zealot or anything but this is worrisome to me. It'd create a directory of wallet addresses and even if I chose not to register mine and lived outside of the jurisdiction of these regulations, sending a small amount of money to a wallet within it would make me vulnerable to significant violations of my privacy.
Bitcoin itself points out that it is not, actually, anonymous:
Some effort is required to protect your privacy with Bitcoin. All Bitcoin transactions are stored publicly and permanently on the network, which means anyone can see the balance and transactions of any Bitcoin address. However, the identity of the user behind an address remains unknown until information is revealed during a purchase or in other circumstances.
In fact, research from a team at University of California, San Diego, found that analysing the public traces left by every Bitcoin transaction could allow law enforcement to identify many users of a currency often assumed to offer anonymity – an assumption that's led people to use it on the deep net.
A 45-day public comment period will commence when the proposed rules are published in the New York State Register's 23 July edition.
Commenters are noting that where goes New York, so follows the country, in terms of financial regulation.
New York's example could well set the stage lawmakers across the country, and perhaps the world, as they try to wrestle with, and gain control of, the hitherto relatively free-wheeling virtual currency market.
Will these rules affect innovation? Or will they be ignored as Bitcoiners carry on, as many commenters suggest?
Composite image of Bitcoin and Statue of Liberty courtesy of Shutterstock.