Ever posted a picture of your cat online?
Unless your privacy settings avoid making APIs publicly available on sites like Flickr, Twitpic, Instagram or the like, there's a cat stalker who knows where your liddl' puddin' lives, and he's totally pwned your pussy by geolocating it.
That's right, fat-faced grey one from Al Khobar in Saudi Arabia, Owen Mundy knows you live on Tabari Street.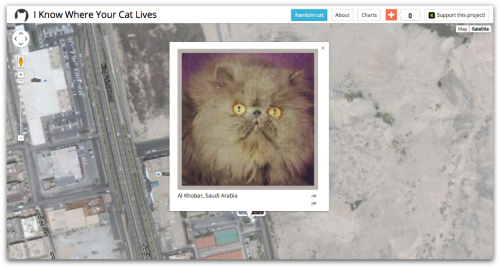 Mundy, a data analyst, artist, and Associate Professor in the Department of Art at Florida State University, has been working on the data visualisation project, which is called I Know Where Your Cat Lives.
It's a data experiment that takes advantage of a furry monolith: some 15 million images currently tagged with the word "cat" on public image hosting sites, with more being uploaded at a rate of thousands more per day.
The project takes a slice of that cat data mountain, visualising 1 million public images of cats on a world map, locating them by the latitude and longitude coordinates embedded in their metadata, as a way to a) get people's attention with irresistible cat photos and b) use this as an illustration of the data that's publicly available:
This project explores two uses of the internet: the sociable and humorous appreciation of domesticated felines, and the status quo of personal data usage by startups and international megacorps who are riding the wave of decreased privacy for all. This website doesn't visualize all of the cats on the net, only the ones that allow you to track where their owners have been.
The images were acquired by running a query for public photos tagged with "cats" from the APIs provided by Flickr, Twitpic, Instagram, and a few others.
The project team say they then ran the images through various clustering algorithms using a supercomputer at Florida State University in order to represent the enormity of the data source.
It's not just the cats who suffer from lax privacy
Mundy got the idea when he was photographing his daughter using Instagram on his iPhone.
One day, he noticed a button to see a map of all the photos he'd taken. He thought, as many have, "I don't remember giving permission for the app to do this…"
He looked through the mapping, and lo and behold, there were photos of his daughter, in his back yard.
Well, this is creepy, he thought.
He wanted to make that experience tangible: hence, I Know Where Your Cat Lives was born.
The images are striking. As is typical of map apps nowadays, users can zoom in to house-level views that show the exact location of the images at street level, on map or satellite view.
More precisely, the site puts cat location accuracy at an estimated 7.8 meters.
"Riding the wave of decreased privacy"
This is not to say that the project's team cares where your cat lives.
They do care that, as they said on the site, "startups and international megacorps" are "riding the wave of decreased privacy."
In an interview with MSNBC, Mundy said none of this will likely surprise anybody.
It is, after all, just another example of how digital technology "enables the transfer of information with or without your consent," he said.
A few years ago, Facebook CEO Mark Zuckerberg said that privacy is dead.
That wasn't really the truth of the matter, Mundy said, though it behooved Zuckerberg, Facebook and its investors to say so.
Rather, the ability to pinpoint somebody – be it human or feline or what have you – shows us that privacy is continually changing, Mundy said:
I think privacy is kind of an ongoing thing that the culture and people and companies all have to work together to solve in a way that serves everyone.
Mundy isn't even particularly a cat person. He could just have easily called the project "I know where your kid sleeps".
Creepy? Oh yeah – much worse than kitty-stalking creepy. That is, of course, the point of the project, Mundy says:
It tells us a lot about what is possible and tells us we have to continuously watch what we do and what we say and what the software we're using does or says for us.
As MSNBC's Ronan Farrow notes, this is a purrfect story about privacy implications. It should give you paws. We felt we just had to let the cat out of the bag on this one.
And if that's not enough cat punnery, here's a lynx to the @CatPuns Twitter account. Really, it's one of my furvurrrite pages.
And of course, there's the serious takeaway: consider removing personal information from digital photos, as suggested by I Know Where Your Cat Lives.
Here's a site with instructions on how to do that.
It's one way to keep information about you, your cats and your kids away from cybercreeps.