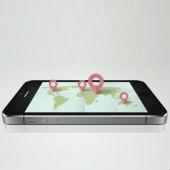 Apple's been hit with a class action suit [PDF] in the US for using the location service function on its iPhones to track customers without notice to, or consent from, customers when it comes to their whereabouts being tracked, recorded, sent to Apple, and potentially provided to third parties.
A Californian woman, Chen Ma, filed the suit on behalf of Apple's 100-million-plus iPhone users in the US District Court for the Northern District of California.
She accuses the company of violating iPhone users' privacy by not only being able to pinpoint their locations but also to "record the duration that users stay at any given geographical point and periodically transmit" the data to Apple's database.
iPhones come with software called Location Services that uses GPS, cell towers, nearby Wi-Fi networks and other sources to work out the iPhone's location.
When you switch on Location Services some other services that send that location data back to Apple, such as 'Popular Near Me' and Location-Based iAds, are also enabled.
Chen Ma says Apple never told her about the tracking.
From the court filing:
Plaintiff alleges that while using her iPhones, including her current iPhone 5S, she was not given notice that her daily whereabouts would be tracked, recorded, and transmitted to Apple database to be stored for future reference. She was not asked for and thus has not given her consent, approval and permission nor was she even made aware that her detailed daily whereabouts would be tracked, recorded and transmitted to Apple database.
The lawsuit should come as no surprise, considering the saber-rattling about location services that's led up to it.
On 11 July 2014, China's state media TV broadcaster, China Central Television (CCTV), called iPhones a security threat to the state, lambasting the phones' "Frequent Locations" function for allowing users to be tracked and information about them to be revealed.
The broadcast quoted researchers who said that those with access to the data could glean sensitive information such as the country's economic situation or "even state secrets".
In fact, Ma claims in the lawsuit that she had no idea that "her daily whereabouts" were being tracked until she saw the CCTV report.
CCTV's wrath didn't extend to other mobile phones that also track location. Androids, for example, also track where we go, and in the event that a phone is stolen, Android owners can track their devices' location.
But then, other mobile phones aren't as American as Apple. In the wake of revelations about the National Security Agency's (NSA's) extensive surveillance activities, that American-ness has taken on the aroma of guests and yesterday's fish.
In fact, in June 2013, a state-run media campaign warned about the dangers of using foreign tech gear.
A June cover story in China Economic Weekly used the English headline, "He's Watching You," on top of a glowering figure, borrowed from a World War II-era US propaganda poster, wearing a helmet emblazoned with an NSA logo.
The eight US companies singled out in that cover story included Apple.
Ma's suit alleges that Apple doesn't give iPhone users "any meaningful choice" to turn off the feature "without substantially compromising" iPhone functionality.
The suit says that Apple, in response to CCTV's queries, "only stressed that it will not disclose" the data to a third party – a claim she's not swallowing.
She alleges that Apple has, in fact, handed information to third parties, including the US government, which has made more than 1,000 requests for information.
(Here's Apple's first transparency report [PDF], from November 2013.)
In the suit, Ma said that the intentional intrusion is "extremely offensive and objectionable."
She's seeking both compensatory and punitive damages from Apple and has asked the court to grant an injunction prohibiting Apple from collecting "highly sensitive and highly private" data through the location service feature without "meaningful notice" and "explicit consent."
Image of iPhone and map courtesy of Shutterstock.