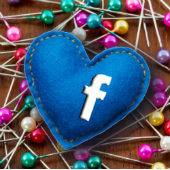 For months, Facebook hosted a revenge-porn page dedicated to humiliating one Texas woman with Photoshopped clips of her face pasted onto porn shots, a US woman from Texas is claiming.
That woman, Meryem Ali, is now suing Facebook for $123 million (£73.11 million), which works out to 10 cents for each of the company's 1.23 billion users.
Her suit, filed on 27 July in Harris County, Texas, names both Facebook and an ex-friend, Adeel Shah Khan, of Illinois, as defendants.
According to Ali, Khan was a friend about 5 years ago.
For "his own perverted pleasure", he allegedly decided to start up a custom-tailored version of the standard, garden-variety revenge-porn site, which targets just about anybody it can get its sweaty little paws on.
The page in question was an "imposter" Facebook page taken out specifically in Ali's name, the suit alleges.
Khan allegedly proceeded to send Friend invites to Ali's family and friends from the trumped-up porn page.
What those friends and family found when they clicked: Ali's face, cut-and-pasted onto photos of naked bodies, along with at least one that purportedly depicted her in the middle of having sex.
They alerted Ali in December 2013.
According to her suit, Ali, her friends and her family spent the next few months peppering Facebook with requests to take it down, per Facebook procedure, with no luck.
Facebook only responded after Houston police came knocking, subpoena in hand, as they tried to find the identity of the person behind the trumped-up porn.
Ali's lawyer wrote in the filing that the action is being brought to "seek full justice" for the "significant trauma, extreme humiliation, extreme embarrassment, severe emotional disturbances, and severe mental and physical suffering" that Ali has endured.
The suit seeks actual/compensatory as well as punitive/exemplary damages from Facebook, which does this all with full knowledge, the suit claims, in spite of the privacy claims it makes in advertising.
From the court filing:
By this action, Plaintiff seeks to expose the frailties and failures of the falsely advertised, and falsely promoted privacy mechanisms of Defendant Facebook the largest social network in the world, and the significant damages that result to innocent individuals like Plaintiff as a result of those frailties and failures that Defendant Facebook's upper management, officers, directors and key employees have long known about and essentially concealed.
The suit states that it's trying to get Facebook, the people who run it, and the people who use it "to stand up, take notice and pay attention to the serious privacy violations concerns involved in revenge porn situations."
Is Facebook at fault here?
That's a multifaceted question.
As far as Facebook's shielding of the identity of the user allegedly behind the revenge-porn page, I would say no, Facebook was doing what it's supposed to do: shield our privacy unless mandated by court order to do otherwise.
A reader offered this comment in the case, a few weeks ago, of a 13-year-old Texas girl who was arrested for Facebook death threats against an entire town:
Facebook is not law enforcement and does not know what does or does not constitute an "emergency". That is why we have a system of due process in the United States (and Texas).
But revealing identities is one thing. Taking down reportedly abusive content is another matter.
Is Facebook at fault for offering a Report Abuse procedure that acts like a black hole, swallowing complaints up with no reasonable expectation of prompt redress?
I say yes.
I suggest it's time for Facebook to start including, on its How to Report Things page, language regarding the necessity of not just clicking on the Report button but also speedily securing the assistance of law enforcement in emergency situations, along with clear language informing people that the company will not hand over information without a court order or warrant.
I'm not sure whether Ali's lawyer is actually putting Facebook on trial for this particular aspect of its privacy/report abuse procedures, but the language in the suit sure doesn't sound like he's shying away from it.
I'm hoping that the case will at least draw attention to a report abuse button that seems to have gotten its wires snipped.
Too often, it gets users no response, no matter how hard or how often we press that damn button.
Composite image of pins and heart courtesy of Shutterstock.