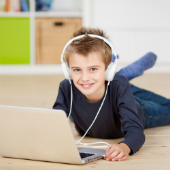 Facebook must disclose any available records on the number of children under the age of 13 who have accounts in Northern Ireland or anywhere throughout the UK, the High Court in Belfast has ruled.
The order comes in the context of a trial that's been brought by a girl's father for alleged negligence and for breaching his daughter's right to privacy.
Starting when she was 11, the girl opened four separate Facebook accounts, in spite of Facebook's rule that users have to be at least 13 years old to sign up.
Using those accounts, she posted sexually suggestive and inappropriate photos, the court heard.
Beyond Facebook contacts, men also allegedly texted the girl with "extreme sexual content" as a result of her personal details appearing on Facebook.
Facebook deactivated the accounts as soon as it received reports about them, the BBC reports.
But her father's lawyers are charging that Facebook's open registration system made it too easy for the girl to set up profiles that then put her at potential risk for being preyed on by paedophiles.
The girl's now under a care order, meaning that social services have parental and legal responsibility for her, and the lawyers want Facebook to hand over any records there might be about underage account holders.
Are there any such records?
Facebook says that no, it doesn't retain data on reports of underage users for more than six months.
But the lawyers aren't buying it.
They're pointing to an alleged statement by the company's chief privacy advisor in 2011 that 20,000 people are removed from the site every day for being under the age of 13.
The judge, Mr. Justice Gillen, wrote that whatever records Facebook has must be turned over, as the court tries to assess what kind of challenge Facebook faces in keeping kids under 13 off the site.
The court made the same ruling regarding a request for details on the number of account holders in Northern Ireland generally.
Facebook may not hold onto records about how many underage children's accounts get reported every day, but there are studies out there that come up with substantial numbers.
In research from 2011, New York University found that 55% of children under the age of 12 had a Facebook account, with 76% of them signing up with parents' help.
It's been estimated that millions of pre-teens log in to Facebook every day.
Parents say that it's just about impossible to keep kids off of social media.
At the time of the NYU study, one parent, Marc Smerling, from Brooklyn, NY, had this to say to the Daily Mail about Facebook's limp attempts to keep underage kids from signing up (after all, all it does is state the age limit in its terms of service):
It's unenforceable. It's like having a big bowl of candy and not letting them have any. The internet is everywhere around us. You can't get away from it.

You just have to have a long conversation about the rules.
True, it must be tough to keep kids off Facebook, or Instagram, or any of the other social media networks that they currently prefer.
Unfortunately, there are far too many reasons for parents to worry about young children interacting with potential creeps on these sites.
Paedophiles use Facebook to groom victims. Cyberbullying is another serious danger.
If you come across a child under 13 who's got a Facebook account and want to report the issue, go to Facebook's Report an Underage Child page.
If you let your child have a Facebook account and you want to try to keep their account safer, here are five tips to help you out.
And, if you'd like to stay up to date on all our Facebook-related news, please Like the Naked Security Facebook page.

Image of boy using computer courtesy of Shutterstock.