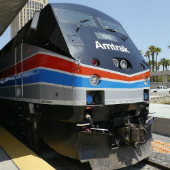 Since 1995, a former Amtrak employee has been selling passenger data to the US Drug Enforcement Administration – information that cost the DEA $854,460, but which it could have gotten for free.
Amtrak is the US's railroad service, a company that receives public funding but which is operated and managed as a for-profit corporation.
The passenger data should have been freely available through a joint drug enforcement task force between the DEA and Amtrak's Police Department (APD).
It all came to light in an Amtrak inspector general report picked up on by Senator Chuck Grassley, the senior Republican on the Senate Judiciary Committee.
On Monday, Grassley released a letter to DEA Administrator Michele Leonhart in which he called the $854,460 an unnecessary expense and asked for more details.
The inspector general report described the Amtrak employee who sold the data as a "secretary to a train and engine crew" who was acting without Amtrak's approval.
As the Associated Press reports, travel companies like Amtrak collect data from passengers that includes credit card numbers, travel itineraries, emergency contact details, passport numbers, and dates of birth.
Grassley said that beyond the wasted money, the incident …
... raises some serious questions about the DEA's practices and damages its credibility to cooperate with other law enforcement agencies.
The inspector general report said that the secretary's actions prevented Amtrak's police from working jointly with DEA in narcotics trafficking on Amtrak property, thus depriving the Amtrak police from receiving $854,460 in asset forfeiture funds.
The employee was removed from service and company charges were filed, the report said, though it also said that the secretary "chose to retire."