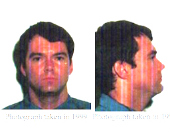 A US child sex abuse suspect hiding out in Nepal who was on the run for 14 years has been caught using facial recognition technology.
According to a statement posted by the Federal Bureau of Investigation (FBI) on Tuesday, Neil Stammer, 48, of New Mexico, was caught hiding under the alias "Kevin Hodges" after a photo from 1999 was circulated on a reissued wanted poster in January.
The FBI described Stammer as a talented juggler with an international reputation.
That made him tough to catch, the FBI says, given that Stammer has traveled extensively, has worked as a street performer in Europe, speaks or reads a dozen languages, and thus could have been "anywhere in the world".
Stammer started out in the US state of New Mexico, where he owned a magic shop.
He was arrested in 1999 on multiple state charges, including child sex abuse and kidnapping. He was released on bond but never showed up for his arraignment.
That led to New Mexico filing a federal fugitive charge on Stammer, who was then 32 years old. That's when the FBI got involved.
The case went cold until January 2014, when FBI Special Agent Russ Wilson was assigned the job of fugitive coordinator in Albuquerque, New Mexico.
Wilson created a new wanted poster for Stammer and posted it onto FBI.gov in hopes of generating tips.
A special agent with the Diplomatic Security Service (DSS) – a branch of the US Department of State whose mission includes protecting US Embassies and maintaining the integrity of US visa and passport travel documents – was testing new facial recognition software designed to uncover passport fraud when he decided, "on a whim", to use the software on FBI wanted posters.
A match showed up between Stammer's wanted poster and a passport photo issued under a different name.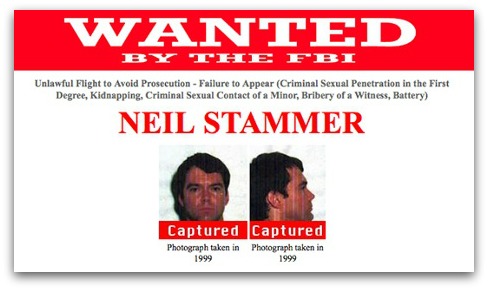 Suspecting fraud, the DSS agent contacted the FBI. The tip soon led Wilson to Nepal, where Stammer was living under the name Kevin Hodges and regularly visiting the US Embassy there to renew his tourist visa.
FBI agent Wilson said Stammer had been living in Nepal for years, teaching English and other languages to students hoping to gain entrance into the US, and seemed surprised that the law finally caught up to him:
He was very comfortable in Nepal. My impression was that he never thought he would be discovered.
The FBI worked with the Nepalese government to locate and arrest Stammer.
Catching suspected child predators is a positive for facial recognition, but the debate about the increasingly widespread use of this new technology rumbles on – in particular, the absence of rules that would protect privacy.
Senator Al Franken, Chairman of the Senate Subcommittee on Privacy, Technology and the Law, is one of many civil rights advocates who've voiced concern about facial recognition.
As Senator Franken noted in February, there were then no best practices set up for facial recognition use.
Policies are currently being hammered out in the US by the National Telecommunications & Information Administration.
Facebook, Wal-Mart and Apple are in on the rule-making, similar to foxes writing the rules for how to run a hen house.
The lack of best practices certainly hasn't stopped law enforcement from using facial recognition, though.
According to Edward Snowden leakage, the National Security Agency (NSA) has been collecting millions of images from the web and storing them in a database that can be mined by facial recognition software for identifying surveillance targets.
Local police have been using facial recognition as well.
In November, a story came to light about San Diego quietly slipping facial recognition into the hands of law enforcers, who've been using mobile phones and tablets to snap photos in the field, all without warrants or asking for subjects' permission to run their images against criminal databases.
The program was rolled out without public hearings or notice, and could represent the beginning of a national rollout.
There are good technologies out there that are helping to nail child abusers, such as the use of PhotoDNA to catch abusive images swapped via email, as done recently by both Google and Microsoft.
Is facial recognition such a technology?
I would say that it could be, someday, but not yet.
Not before privacy rights have been taken into the equation, and not before there are privacy rights-respecting guidelines for law enforcement, data brokers, retailers, and anybody else with a vested interest in recognizing our mugs.