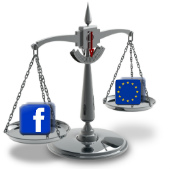 Austrian law student Max Schrems has won the first round in his class action lawsuit against Facebook over online privacy.
After an initial hearing yesterday, Austria's Vienna Regional Court gave Facebook Ireland four weeks to respond, though it can ask the court for an extension of an additional four weeks if required.
Speaking after the decision, Mr Schrems said:
The order is very likely on the way to Facebook via registered mail. The first step in the legal procedure is hereby taken.
He also explained how the court could pass judgement in absence if Facebook Ireland failed to submit a counter-statement within the allowed timescale.
Schrems revealed that 25,000 users from outside of the US and Canada have signed up to support the case, subject to review by his legal team. This, he says, makes it "the largest privacy class action in Europe."
A further 35,000 Facebook users have registered their support via www.fbclaim.com and await a decision from lawyers as to whether the case can be expanded to include their claims.
Facebook v Europe said it had to cap the number of claimants to 25,000 for logistical reasons, Schrems said.
With this number of participants we have a great basis, to stop complaining about privacy violations and actually do something about it. If we are successful, the outcome will of course have a positive impact on all users.
Schrems and the other members of the class action lawsuit are seeking damages of €500 each ($664/£400) for alleged data violations by Facebook – including the unauthorised use of data, supporting NSA spying, tracking users on external websites and passing on user data to third-party companies and apps without authorisation.
The action is being taken against Facebook Ireland for jurisdictional reasons – Dublin is the European HQ for the New York-based social network.
Mr Schrems has been challenging Facebook over its use of data for some time now and currently has more than 20 active complaints lodged with the Irish Data Protection Commission.
The most high profile of those complaints is based around the social network's relationship to the US National Security Agency (NSA) and its PRISM programme.
In a recent landmark case, Schrems' claimed that Ireland's Data Protection Commissioner Billy Hawkes had misinterpreted and applied the law when challenged over the transfer of Facebook user data to the NSA.
High Court Justice Gerard Hogan, however, ruled that Schrems was entitled to protest over data being shared with an organisation that was not entirely compatible with the Irish constitutional views on privacy, regardless of whether he could prove his own data had been spied upon or not.
The case was subsequently escalated to the European Court of Justice.
Image of scales courtesy of Shutterstock.