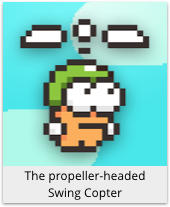 Late last week, the game Swing Copters came out, a sequel of sorts to the now-cult-classic game Flappy Bird.
Remember Flappy Bird?
It came from nowhere, more or less, to reach download figures in the millions per day, with thousands of daily reviews.
This popularity rocketed Flappy Bird into the top free app spot in the US Play Store.
And because nothing breeds online success quite like online success, the game allegedly catapulted its Vietnamese developer, Dong Ngyuen, to a stratospheric income estimated at $50,000 per day.
(Even a Premier League footballer would have to be impressed at earnings like that!)
But Ngyuen soon and abruptly withdrew Flappy Bird at the start of February 2014, claiming bluntly, "I just cannot take this anymore."
Back then, scammers pounced on the now-defunct brand name, offering off-market downloads claiming to be unauthorised versions of the real thing.
At least some of them, of course, were deliberately modified copies of the game with additional functionality aimed at parting you from your money or your data, for example by telling you that you needed to pay a fee for your pirated copy of the game via a premium-rate SMS.
Brand hijack
Ngyuen recently decided he could take the burden of publishing mobile games after all, and announced the imminent arrival of his new game Swing Copters.
Unsurprisingly, the scammers and ripoff artists flocked to the birth of the new game, just as they had flocked to the death of Flappy Bird.
Indeed, UK publication The Guardian claimed that when Swing Copters launched, it only made it into 63rd spot on Google's Play Store if you searched for it by name.
Clearly, this sort of brand hijack is a huge problem for Ngyuen, for Google, and for prospective players of the game.
With more than 1,000,000 free Play Store apps published in less than six years (what was then Android Market launched in October 2008), Google's systems are approving free apps at the rate of about one every three minutes.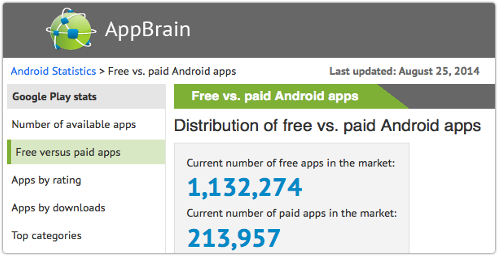 That doesn't leave a lot of time for scrutiny and due diligence, whether by human, or computer, or both.
The good news is that, five days later, Google seems to have weeded out the imposters, with the search term Swing Copters delivering Ngyuen's app at the top: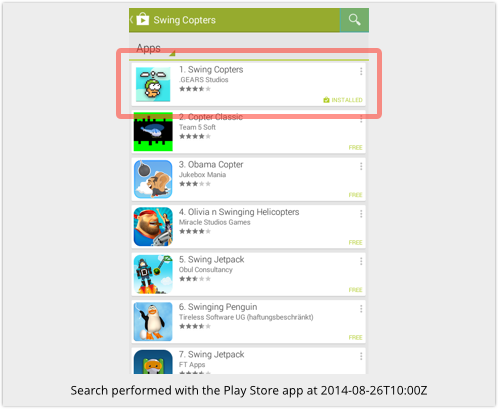 There are other Copter apps, and other Swing apps, but apparently nothing other than the original that combines the two words.
Just for the record, as you might expect (or at least hope) from a simple game-play app, Swing Copters doesn't ask for special permissions of its own: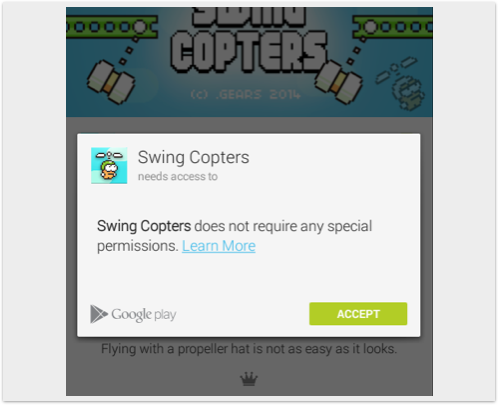 But it does connect to Google's network (which in turn invites you to share your location) and it does display in-game ads.
What to do?
Sticking to the Play Store, by leaving the Allow installation of apps from unknown sources option turned off on the Android Settings | Security page is a wise idea.
But it doesn't help much in this case, because the imposter apps reported by The Guardian were in the Play Store anyway.
An anti-virus can help, especially if it has a "Low Reputation Apps" feature that will warn you of apps that haven't yet acquired a positive reputation in the community.
In this context, the term "low reputation" doesn't mean that the app is known-bad, merely that it is not yet really known at all.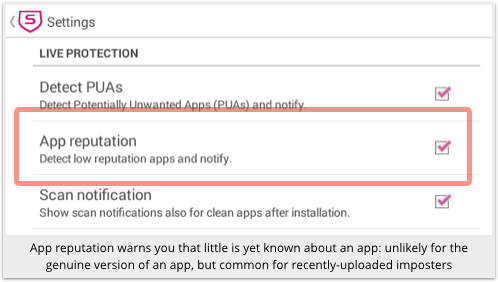 If you're happy not being an early adopter, you can simply wait and see what the community thinks.
If you do want to try the app out sooner rather than later, you can simply treat a "low reputation" notification as an advisory to do your own additional due diligence on the app and its creator.
Online reviews and search results can all be dishonestly influenced, of course, but a little bit of digging should help you make up your mind.
Just treat the download of a free app in the same way as you would the purchase of an expensive new product such as a washing machine or a mobile phone.
Most countries no longer allow a vendor to rely on the principle of caveat emptor ("let the buyer beware") when selling products, but it's still a good idea to go in with your eyes wide open.
Don't fall into the habit of reasoning that "The app's free, so it's not going to cost me anything."
The app itself may seem inconsequential, but its consequences might not be!