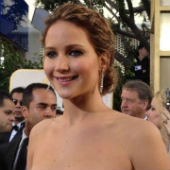 Nude photos of Oscar-winning Hunger Games actress Jennifer Lawrence, as well as images of 99 other celebrities, have apparently been posted online by a user of the 4chan website.
The anonymous hacker reportedly gained access to private photos belonging to Jennifer Lawrence, Kim Kardashian, Amber Heard Cat Deely, Kate Upton, Kelly Brook and others via Apple's iCloud storage system.
Unlike other supposed celebrity photos, which are often fake and designed to trick users into clicking on suspicious links, at least some of these pictures have been confirmed as being genuine.
A representative for Lawrence said in a statement Sunday evening:
This is a flagrant violation of privacy. The authorities have been contacted and will prosecute anyone who posts the stolen photos of Jennifer Lawrence.
'Scott Pilgrim vs. The World' actress Mary E. Winstead confirmed photos of her were real via social networking site Twitter, saying: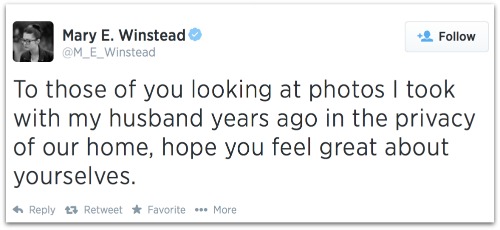 To those of you looking at photos I took with my husband years ago in the privacy of our home, hope you feel great about yourselves… Knowing those photos were deleted long ago, I can only imagine the creepy effort that went into this. Feeling for everyone who got hacked.
Other celebs, denied the authenticity of the photos. Singer Victoria Justice told Twitter:
These so called nudes of me are FAKE people. Let me nip this in the bud right now. *pun intended*
A spokesman for singer Ariana Grande emailed Buzzfeed to say that "The photos are completely fake."
Many of the leaked photos have been circulating on file-sharing and photo sites as well as across social networks.
4chan moved quickly to remove posts from its servers but a screenshot of what a poster calls "celebgate" lists 100 allegedly hacked celebrities.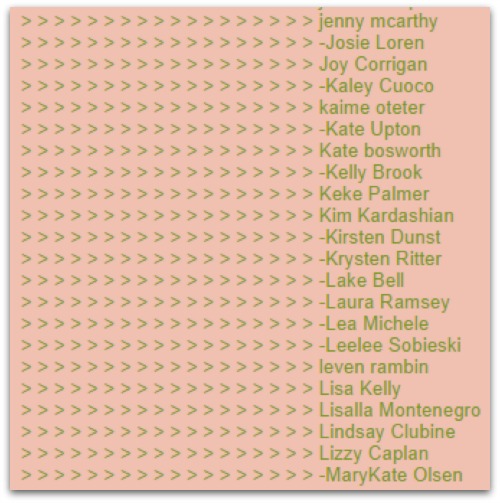 Twitter also acted quickly and responsibly by suspending accounts that posted nude photos of Lawrence. A spokesperson for the social network declined to comment on the specific reasoning behind the suspensions, but did point out Twitter's rules which say:
You may not publish or post other people's private and confidential information, such as credit card numbers, street address or Social Security/National Identity numbers, without their express authorization and permission.
Some reports suggest the hacker was able to access the photos directly through the celebrities' iCloud accounts but Apple has yet to comment on those rumours.
Nude snaps of celebrities are big business, of course, with a single picture reportedly worth as much as $50,000 per day in ad revenue to any publisher prepared to risk uploading a stolen image.
But it's not all money, money, money for the hackers who acquire the images in the first place – Christopher Chaney recently received a ten year stint in jail after hacking into phones belonging to Scarlett Johansson and Christina Aguilera, an incident which Johansson said had left here feeling "truly humiliated and embarrassed."
It's not just celebrities that have to worry about their intimate photos ending up online either – in recent years we have seen a rise in the number of 'revenge porn' sites which publish photos sent in by jilted exes.
While the operators of such sites are taking risks with their civil liberties, the potential embarrassment and harm to the victims is very real.
It's not the celebrities' fault that these images have been stolen, but it's a reminder to us all that once you take that photo you cannot be sure where it'll end up, even if you don't send it to anyone.
So what can you do to ensure your naughty photos don't end up online?
The easiest, and most fail-safe, answer is don't take the photos in the first place.
If your phone is set to automatically backup everything to the cloud, your photos will not stay safely on your phone.
And once you send a photo to that special someone, however much you trust them, you cannot be sure where it will end up.
It's all fun and games until your boss/parents/grandparents see your nudey pics online.
For further information
We have a number of Naked Security resources to help you stay safe online, from what to do with nude selfies (don't take them in the first place!) to how to enjoy sites like Facebook and Twitter without giving away everything about yourself.
Here are some links you might find useful:
And here's a short and straight-talking video that not only shows you how to pick a proper password, but also explains why you should bother.
→ Can't view the video on this page? Watch directly from YouTube. Can't hear the audio? Click on the Captions icon for closed captions.
Images licensed under Wikipedia / Jenn Deering Davis.