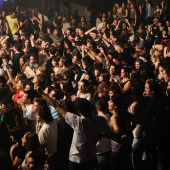 Sorry, but if you weren't in the New Zealand town of Melville in Hamilton on Saturday night, you missed the
PARTY OF THE CENTURY!!!!!
says Callum Tilbury, the 18-year-old, unemployed man who brainstormed the bash to impress a girl, who then posted an open invitation on Facebook, which then resulted in the mingling of 500 drunken teenagers, one hunting knife, and police in riot gear.
As he sat in his garage on Sunday, surrounded by empty bottles and sipping a can of bourbon, Tilbury told Stuff that he was "stoked!" by the success of the fête.
Except for the injuries and getting chased by police with batons to break up the mosh-pit.
We didn't know some of the people that turned up. The chick we put the party on for put it up on Facebook, that's why all these people turned up.
Tilbury told reporters that the police showed up three times.
The third time, Tilbury's mum, Dawn Tilbury, said, "Yes, please," when police asked her if she needed help to shut down the party, she told Stuff:
I tried to shut it down a few times but there was just too many people. I could hardly get out the door ... The police asked me if I wanted to shut it down and I said f*** yes.
Tilbury described the scene when police stormed the property in riot gear and moved partygoers into the street:
[Police] stormed in and everyone left and they had the roads blocked off so we had to walk down the end of Mahoe St. We had no other way to exit and they had the riot squad as well chasing us down with like batons and riot shields and like slug guns and stuff.
A neighbour, Hone Tuau, said the scene was one of teens gone feral:
A whole lot of youngsters wanting fights. Had a few try and turn around trying to fight back to the cops. That didn't last long, I'm guessing they would have got locked up as well. The street was full of teenagers... fighting amongst each other, bottles being thrown everywhere.
Police senior sergeant Peter van de Wetering said police found the hunting knife while they were moving the kids off the street.
Stuff subsequently reported that 14 people were arrested and at least one person injured at the party. 
Tilbury, who said he's "definitely not friends" anymore with the Facebook-posting femme, isn't facing any charges.
He told reporters that he had assigned one guy to act as a doorman and another to cover security, but that wasn't nearly enough to combat the Facebook-fueled deluge.
He's apologised for the party and has visited neighbours to clean up their driveways. 
He also appeared on TV ONE's Breakfast programme to tell others that putting an open invitation, along with your address, onto Facebook is a Very Bad Idea.
Beyond having enough security and ample doormen to keep party attendees safe, his advice for others is:
...not to really put it on Facebook and make it an open party, because the police can find out about it really fast, and that's another reason why they came so quickly to shut it down... at the end of the day, if you throw it for somebody else, they're just going to leave, and your house is going to look like s**t the next day.
Really, we can't say it any better.
Of course, this isn't the only story about other parties gone social media-ishly berserk. We've also seen:
For you future party hosts who'd prefer a more intimate event, check your invite's settings before you post it.
Remember, it's easy for things to spread on social media. Then, it's all fun and games – until, at least, somebody sets the garden shed on fire or gets chased down the street by a baton-wielding cop.
Image of party courtesy of Christian Bertrand / Shutterstock.