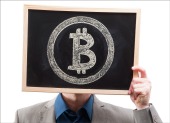 An anonymous internet user, known simply as "Jeffrey", claims to have hacked the email account of Satoshi Nakamoto, the creator of virtual currency Bitcoin.
In a post uploaded to Pastebin, the hacker offered to trade Nakamoto's personal data for 25 Bitcoins (around $12,000 or £7500):
Releasing the so called "gods" dox if my address hits 25 BTC.

And no, this is not a scam, you can see the below screenshots for proof of inbox ownership and a little teaser.
The message included a Bitcoin address for interested parties to send payments to, and two screenshots which purportedly show that the poster is in control of the mysterious Bitcoin creator's inbox.
While the screenshots hardly provide compelling evidence that "Jeffrey" has access to the account, the head administrator of the Bitcointalk.org discussion forum – Michael Marquardt (theymos) – revealed on Monday that he had received a message from Satoshi's old email address which led him to believe that the account had been compromised:
The email was not spoofed in any way. It seems very likely that either Satoshi's email account in particular or gmx.com in general was compromised, and the email account is now under the control of someone else. Perhaps satoshin@gmx.com expired and then someone else registered it.

Don't trust any email sent from satoshin@gmx.com unless it is signed by Satoshi. (Everyone should have done this even without my warning, of course.)
In addition, Jeffrey appears to have posted on the P2Pfoundation site where he left a message in which he revealed more details of the alleged account compromise:
Dear Satoshi. Your dox, passwords and IP addresses are being sold on the darknet. Apparently you didn't configure Tor properly and your IP leaked when you used your email account sometime in 2010. You are not safe. You need to get out of where you are as soon as possible before these people harm you. Thank you for inventing Bitcoin.
While it looks like Jeffrey has indeed got access to a particular email account it isn't clear how he achieved it, when, or whether it was indeed ever under Satoshi's control.
Speculation within the Bitcoin community suggests that the account may have been registered after it previously expired or may have even been compromised years ago.
Jeffrey however, is adamant that he is in possession of the real deal, though he seems rather reticent about offering up conclusive evidence. He did however tell Wired that he was able to gain access to the satoshin@gmx.com email address because:
The fool used a primary gmx under his full name and had aliases set up underneath it.
Having seemingly arrived out of thin air in 2008, the mysterious Satoshi proposed the concept of Bitcoin and then remained active in the community for two years before slowly disappearing into the shadows.
Mystery breeds opportunity for some users on the internet so news about Nakamoto's identity, and this leak in particular, should be viewed with both a certain level of cynicism (do you remember Newsweek's outing of Dorian Satoshi Nakamoto?), and a healthy level of caution.
Image of Bitcoin courtesy of Shutterstock.