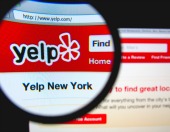 California has passed a bill that protects customers from getting penalized by companies after writing bad reviews.
Yelp's response: Yippee!
In a blog post published Wednesday, Yelp said that it sometimes hears about businesses that sneak clauses into consumer contracts that forbid customers from leaving negative reviews on sites like Yelp.
Such non-disparagement contracts threaten fines or legal action that work against the sharing of honest customer experiences, Yelp said:
These types of non-disparagement contracts not only seek to intimidate potential reviewers away from sharing their honest experiences online, but also threaten to deprive the public of useful consumer information.
A five-star rating for a business who had used one of these clauses to simply scare all negative reviewers into removing their comments wouldn't really represent the experience a consumer could expect to have at that business in our opinion.
Businesses that have pulled this shtick include a swanky New York hotel that got into hot water this summer when it told wedding couples that it would deduct $500 from their deposit for any guest who groused about it online.
But more to the point of the California bill, nicknamed the "Yelp Bill", is the story of the couple who inspired its passage.
The Utah couple, John and Jennifer Palmer, received an email from online retailer KlearGear saying they'd have to pay $3,500 unless they removed a comment they had posted three years earlier to the review site RipoffReport.com.
They had posted the review over an order that never came: a less than $20 order of "a perpetual-motion desk toy and a bendable smiley-face keychain" that were to be Christmas gifts to Jennifer from John.
The Palmers prevailed in Utah federal court after KlearGear didn't bother to show up.
Then-speaker John A. Pérez was inspired by the Palmers to introduce the Yelp Bill. California Gov. Jerry Brown signed it into law on Tuesday.
The bill protects consumers' rights to leave reviews, making it unlawful to threaten or penalize a consumer for making statements protected under the bill.
The bill imposes civil penalties of $2500 for initial violations and $5000 for subsequent violations, as well as a penalty of $10,000 if the violation was willful, intentional or reckless.
The bill goes into force in California in 2015.
It's a big win for consumer rights. What's left in its wake, of course, are the businesses that are struggling to deal with review sites such as Yelp that can make or break them.
For example, earlier this month, a federal appeals court threw out a class action suit that accused Yelp of "extorting" small businesses by tying positive and negative reviews to the purchase of advertising contracts worth $300 to $1200 a month.
As well, we saw in the spring how reviewers can act as a virtual lynch mob when some Google Glass users panned a restaurant, without ever having stepped foot in the place, over its request that patrons not wear the gadgets while dining.
Such reviews don't merit the protection given to honest opinions and wouldn't be protected under a bill such as California's.
Some are saying the legislation is excessive, given that existing laws protect consumers well enough.
But in making non-disparagement clauses illegal to begin with, one hopes that a bill like this would prevent consumers getting dragged into costly court battles to begin with.
Readers, what do you think? Excessive legislation, or a necessary check to businesses trying to scare reviewers away?
Let us know your thoughts in the comments section below.
Image of Yelp courtesy of Gil C / Shutterstock.com.