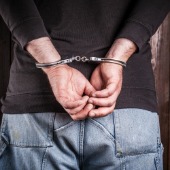 A 22-year-old man from Washington Township, New Jersey, has been charged with stalking one teenage girl and soliciting sexually explicit photos from another via Facebook.
Prosecutors have accused Brandon McIntyre of using the alias "Katie Thompson" to encourage one young girl to go on trips with him last August.
When the girl declined the invitation, McIntyre, masquerading as Katie, threatened to hurt her boyfriend and kill members of her family, according to federal prosecutors.
McIntyre is also alleged to have sent explicit photos of himself to another girl, aged 12, via Facebook Messenger. In return, he is said to have asked her to send sexually explicit photos of herself but when she refused he allegedly claimed he was a police officer with the ability to make her life a "living hell" if she did not comply with his demands.
Prosecutors say that McIntyre also threatened the girl with fines and expulsion from school, as well as jail time, when she refused to send him the photos.
He now faces one charge of stalking and one count of sexual exploitation of a minor. If convicted he could face a maximum penalty of five years in prison and a $250,000 fine for stalking, and up to 30 years in jail along with another $250,000 fine for the sexual exploitation charge.
McIntyre is currently serving a 187 day sentence in Hunterdon County Jail for another offence after pleading guilty to stalking, impersonating a law enforcement officer, and harassment back in May.
We hear too often of these sorts of cases. Almost exactly a year ago, we reported on the case of Robert Hunter, who was jailed after tricking young kids into thinking he was Justin Bieber before persuading or coercing them to perform sex acts on webcam.
Back in May, we reported on two Cambridgeshire men who were convicted of multiple rapes, sexual activity with a child, trafficking, possession of explicit images and intimidation after grooming several children over Facebook.
And last month we told you about the industrious mother turned sleuth who uncovered a Facebook predator targeting her son.
To help keep you safe on Facebook, follow our 5 tips, and Like the Naked Security page.
Of course Facebook isn't the only site where children and their parents need to practice caution – paedophiles can, and do, hang out in all corners of the web. So here are ten tips to help keep you and your family safe online.
Image of handcuffs courtesy of Shutterstock.