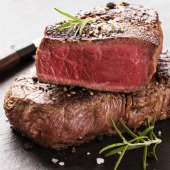 One mumbling, sizable bartender has been likened to Vito Corleone's personal enforcer from "The Godfather"; some patrons think the steak house should install a personal chalk body outline to mark where Gambino mobster Paul Castellano was gunned down; and the waiters sometimes acknowledge you only with a slight curl of the lip.
OK, those are fair enough Yelp reviews.
But a negative, bogus review from somebody claiming to be a waiter who regularly spits in the food is going too far, claims top-ranked, expensive New York eatery Sparks Steak House, which has asked a judge to compel Yelp to identify the user.
According to The Smoking Gun, Sparks filed with the New York State Supreme Court on Monday 8 September to get Yelp to hand over details about user 'Besfort Shala'.
A Yelp reviewer by that name said in a review posted in mid-July that he'd been working for "a long time" at Sparks and that he needed to come clean about the issue of bodily fluids.
From the review, which Yelp has since taken down:

I have personally spit my own saliva into dishes. Our manager actually condones it to guests who give us attitudes. Just double check your food next time you eat here.
According to Sparks's court filing, a man by that name had recently interviewed for a waiter's job at the restaurant, but he wasn't hired.
Shala, when informed that his name was on the Yelp review, filed a police report claiming that an imposter had posted the review in his name.
According to the restaurant's court petition, Yelp has taken down the "malicious and defamatory" review, and the user account of its author, 'Besfort S', appears to have been deactivated.
Note that this spittle-flecked gem of a story comes during the same week that California passed a bill protecting online reviewers from non-disparagement clauses that businesses have slipped in to contracts as a way to financially penalise people who leave negative reviews.
That law has nothing to do with protecting somebody like 'Besfort S', of course, whose review amounts to libel: i.e., a published, false statement that damages reputation.
One commenter on that "Yelp Bill" story, "Andy", noted that online reviews are "worthless" because of the fact that they're put up without verification of the reviewers' experiences as being genuine:
If you look at Amazon reviews, it's full of people reviewing products before they've been released for sale, never bought the product from Amazon, or owned the product for all of 19 seconds before writing the review. These reviews, and the ones on Yelp, are more emotional rant and less fact based. Couple all of that with the services that a business can use to write fake positive reviews and it devalues what Yelp is trying to do.
To inject honesty into reviews, Andy suggested, Yelp might find a way to verify purchases via something like a unique QR code printed on receipts, which could then be sold to businesses and could provide a means for readers to filter out fake reviews.
Amazon has done something similar with Amazon Verified Purchase, which verifies that the reviewer purchased the item at Amazon.
It's not perfect. People can have genuine experiences with items that they didn't actually purchase at Amazon, the company admits. And someone could have a negative experience with a shop or restaurant without actually spending any money there.
But as the desirability of being able to vet online reviews becomes clearer – with businesses suffering from the slings and arrows of fake reviews – suggestions like Andy's seem worth exploring, if perhaps expensive to roll out.
Image of steak courtesy of Shutterstock.