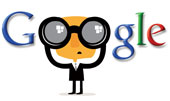 Governments around the world are demanding increasingly larger amounts of user data from Google, according to the company's latest Transparency Report.
In the first six months of 2014, the company received just under 32,000 data requests from governments, an increase of 15% when compared to the second half of 2013, and two and a half times more than when Google first started publishing the data in 2009.
The latest transparency report, released Monday, is a service Google and other big name companies provide to detail how many times governments ask the company to hand over user information to aid investigation of alleged criminal cases.
According to the report, the top ten countries requesting data from Google this time around were the US, Germany, France, India, the UK, Italy, Singapore, Australia, Spain and Brazil.
Nine of the countries listed made demands for user data for the first time; Albania, the Dominican Republic, Egypt, Indonesia, Kosovo, Luxembourg, Maldives, Namibia and Nepal.
But it is the United States that makes the most demands by far, accounting for around 40% of the total of 31,698 demands for user data (second placed Germany only made 10% of the total number of requests).
Data requests come from a wide range of sources within each country, from local police to national security departments. It's worth noting that in the case of the US, the figures do not include National Security Letters (NSL) which recipients may not even be able to admit receiving if the FBI deems that doing so would pose "a danger to the national security of the United States," or requests made under the Foreign Intelligence Surveillance Act (FISA) which explicitly prohibits disclosure.
Additionally, Google and other tech companies are limited in the amount of detail they can report in some instances, and bound to report others only in terms of broad ranges.
In a blog post, Google's legal director of law enforcement and information security, Richard Salgado, wrote:
This increase in government demands comes against a backdrop of ongoing revelations about government surveillance programs. Despite these revelations, we have seen some countries expand their surveillance authorities in an attempt to reach service providers outside their borders. Others are considering similar measures. The efforts of the US Department of Justice and other countries to improve diplomatic cooperation will help reduce the perceived need for these laws, but much more remains to be done.
Salgado conceded that governments have "a legitimate and important role in fighting crime and investigating national security threats" but suggested that new legislation may be required in order to ensure that "surveillance powers are transparent, reasonably scoped by law, and subject to independent oversight."
Salgado urged the US government to pass the USA Freedom Act which would allow Google to be far more transparent about the user data requests it receives while, at the same time, increasing oversight and accountability from government.
He also wrote that Congress should update the Electronic Communications Privacy Act (ECPA) to require the US government to produce a search warrant before compelling a service provider to reveal a user's communication.
There is a growing consensus in support of these reforms. In the remaining days of this session, Congress has a chance to pass historic legislation that will help restore trust that has been lost. We urge them to seize upon this opportunity.