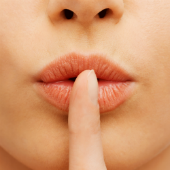 When it comes to posting forehead-smackingly inappropriate stuff on Facebook, a cynic sees the glass as half empty: Facebook users bumble privacy settings, ignoring complicated Friends lists and privacy settings and inadvertently posting embarrassingly intimate content far and wide.
An optimist (read: Facebook's marketing department) sees the glass as half full, or better yet, sees the glass as potentially spilling over with users sharing ever more intimate content on purpose, as opposed to stumbling over drop-down privacy choice lists or being utterly oblivious to privacy controls.
Of course, more intimate content shared = exponentially more marketing opportunities.
"Now", I'm sure the marketing department has been thinking for a while, "if only we could get the interface for intimate sharing streamlined."
Better yet, how about putting intimate moments into a purpose-built, standalone app designed for super-private sharing?
Facebook's apparently doing it.
According to TechCrunch, the company's putting the finishing touches on a separate app for composing intimate updates, designed to be an entirely different experience than what we have now: the kludgy toggling of the sharing settings on one composer interface in order to create both intimate content and blasted-out-to-the-universe Newsfeed updates.
The new app is reportedly codenamed "Moments", multiple sources told TechCrunch.
One of the sources has seen a live, internal version of the app, which at this point is being internally tested (also known as being dogfooded).
TechCrunch describes the current design as putting the primary emphasis on the post's intended recipients – be they close friends or family – as opposed to the main Facebook app's primary focus on creating content.
The design has a grid with a few tiles that each represent a set of close friends or family.
There aren't any screenshots, at this point.
Facebook isn't saying anything about Moments (whose name could change, if it actually makes it out of the testing phase and into launch) except for its standard "We do not comment on rumors or speculation."
Nonetheless, here's more of TechCrunch's description of the embryonic, super-intimate app:
Our source who's seen Moments likened it to the mobile app Cluster, which lets people create safe "spaces" for sharing content with small groups of people like family, best friends, high school buddies, or co-workers. Moments will similarly let people share to different subsets of their total friend list using a more visual design. This should be more comfortable for people than the tiny text-based privacy selector on their News Feed composer which relies on little-used Friend Lists.

There are any number of situations where this could come in handy: for keeping your bawdy posts out of your family's notice, for example.
If Facebook executes it well, "Moments" could be a godsend for those of us who can't understand, don't know about, or forget about privacy controls – or who botch the job when using them.
What do you think, ye readers who actually use Facebook: would you let it all hang out if it were drop-dead simple to see, graphically, who your pole-dancing lesson description/stone cold drunk passed out photos/fill in the blank intimate posts were going to?
Let us know in the comments section below.
And if you want to stay on top of all things Facebook-, privacy- and security-related, you can cozy on up to our intimately endearing Facebook page by just clicking Like.
We won't tell your mum or your Aunt Rita, promise!
Image of finger on lips courtesy of Shutterstock.