It's official! Botto Bistro is the worst restaurant on Yelp!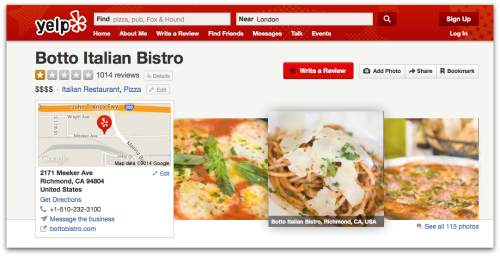 At least, that's what it's claiming: that it's now "officially the worst restaurant on Yelp!", and it even has a Yelp-ish badge – "People hate us on Yelp" – to prove it.
Yelp is not pleased and sent a letter last week saying it heard these one-star reviews were given in exchange for incentives – a 25% discount, to be precise – in direct violation of its Terms of Service.
The Botto User Support Team's response, which is pretty much a point-for-point mimicry of the legalese in Yelp's letter: Oh, yeah? Well, we've received complaints from the community that Yelp may be removing reviews in exchange of "vague explanations to loyal customers."
That violates Botto Bistro's Terms of Service. So too does removing reviews in an effort to strong-arm businesses into buying ads, according to the Botto Bistro User Support Team.
I reached out to Yelp for a comment. Vince Sollitto, Yelp VP of Corporate Communication and Government Affairs told me:
Millions of consumers use Yelp each month to find great local businesses because they trust the content on our site. That's why businesses can't pay Yelp to manipulate their reviews and why it's a violation of our Terms of Service to pay for or incentivize reviews. Offering something of value to a consumer in exchange for a review can lead to biased content, which is why Yelp seeks to prevent it.
How did it start?
In an interview with Ars Technica's Cyrus Farivar, who popped in for lunch – mmmm…. peppered venison sausage pizza – co-owner and chef Davide Cerretini claims that at one point, Yelp ad sellers were ringing the phone off the hook, calling…
...30 times a week, sometimes 5 times a day.
Yelp disputes that.
But it's clear that something wasn't right between the reviews site and the restaurant.
Like many businesses, the bistro bought advertising on Yelp – for six months. But Cerretini claims that salespeople kept calling.
It's not as if Cerretini and co-owner/chef Michele Massimo don't care about customers' reviews.
Actually, scratch that, they don't.
Ars quotes Cerretini about his distinct lack of a need for input:
You don't need to tell me how something from my town is cooked. I work 12 hours a day, six days a week. But if you come here to try to make us change whatever it is that in our place, just shut up and go to eat somewhere else.

Yelp asked me to pay them as advertising so they can criticize me better.
Getting its customers to write one-star reviews is the restaurant's method of calling attention to what some businesses claim to be 'extortion': selling preferred placement on Yelp, where businesses are automatically listed.
In fact, a San Francisco federal appeals court over the summer dismissed two lawsuits against Yelp, saying that the reviews site can tinker with a business's reviews, shuffling them around if it so chooses so that either positive or negative reviews float to the top.
Doing so doesn't amount to extortion, the court ruled – rather, it's just "hard bargaining" in the cutthroat world of ad sales.
The lawsuit was filed by businesses that claimed that positive reviews disappeared from their Yelp page; their overall star rating dropped; or a negative review reappeared or was moved to the top of the review after they declined to purchase advertising from Yelp.
Yelp denied altering business ratings for money.
Judge Marsha Berzon, of the Ninth Circuit Court of Appeals, wrote this for the three-judge panel:
The business owners may deem the posting or order of user reviews as a threat of economic harm, but it is not unlawful for Yelp to post and sequence the reviews.

As Yelp has the right to charge for legitimate advertising services, the threat of economic harm that Yelp leveraged is, at most, hard bargaining.

But after a few weeks of paying for one-star reviews, Botto Bistro has a lot of pointed pans, all aiming their irony straight at Yelp.
Some of the one-star reviews:
Don't try the pizza, it's so good you will come back every day, it completely ruined my social life cause each night I only want to go there
I hate this place!
Your food seems delicious, but that you do not offer shipping to Canary Islands (Spain).... That I cannot accept...
I ordered one of their dishes and the server gave it to me. There was WHITE STUFF in it!!!! I demanded the manager to come over and he just told me it was "cheese." LIAR

As if I didn't get enough of that white stuff given to me already, they thought it was ok. ONE STAR!
A Yelp spokesperson told Farivar that a Harvard Business School study has shown that for every one-star increase, restaurants see revenue increases between 5-9%.
But I suspect that Botto Bistro might grate up that Harvard Business School study and serve it as a side for that venison sausage pizza.