The young, small, privacy-focused search engine DuckDuckGo has been blocked in China, putting it in the ranks of its gigantic search brethren, Google, and other tech companies that have been similarly blocked or banned.
DuckDuckGo founder and CEO Gabriel Weinberg confirmed the blockage to Tech In Asia over the weekend, saying that he has "no idea" why China is censoring it.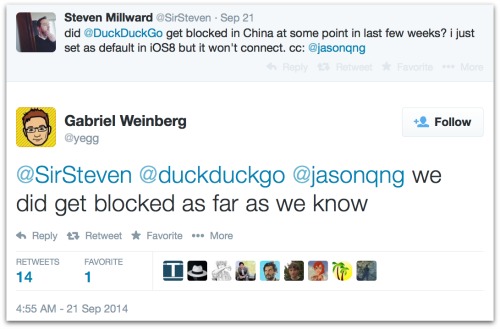 Gabriel Weinberg @yegg
@SirSteven @duckduckgo @jasonqng we did get blocked as far as we know
But as for "when", the block apparently started a few weeks ago.
Searching for duckduckgo.com on the Great Fire censorship monitoring site suggests that China first started blocking DuckDuckGo around 3 September.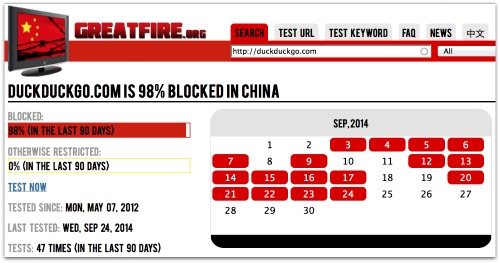 According to Tech in Asia, DuckDuckGo had been working fine in mainland China ever since it debuted, "aside from the occasional 'connection reset' experienced when accessing many overseas websites from within the country."
DuckDuckGo ended 2013 with impressive growth, having passed 1 billion searches by year's end.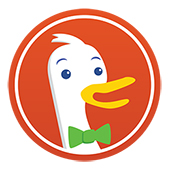 It also enjoyed a coup when Apple decided to make the search engine an option for its Safari browser users, enshrining DuckDuckGo as Apple's default private search engine in the next versions of Mac OS and iOS.
The Next Web's Jon Russell suggests that this new affinity for Apple could well have painted a bullseye on the search engine's back, given the Chinese government's aversion to Apple.
That seems possible, given China's history of anti-US technology moves.
As it is, in July, China cited Apple iPhone's ability to track and time-stamp users' whereabouts as reason to declare the mobile phone a security threat to the state.
That was quickly followed in August by an outright ban on Apple iPads and MacBook Pros for use by Chinese government employees.
Both of the anti-Apple moves are just part of an escalating anti-US tech rampage that's also seen China ban Windows 8 for use in government offices, as well as raid Microsoft and partner Accenture's offices in China as part of an anti-trust investigation.
Google, for its part, preceded DuckDuckGo in being censored and blocked in China.
Google pulled the plug on its mainland China servers in 2010.
In the ensuing years, its search results have been censored by the country's Great Firewall.
Finally, around June 2014, as China headed toward the anniversary of the Tiananmen Square protests, the country blocked Google completely.