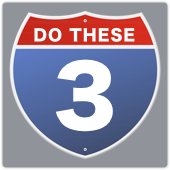 As part of National Cyber Security Awareness Month last October, we suggested three essential tasks you could do for your family to improve their cyber security.
Tomorrow marks a year since we published that advice, so we thought we'd revisit it to ask if you've done them all.
If you haven't, there's still time!
All three are simple but important things that all of us who act as our family's unofficial technical support and cyber-defence team can do to make things harder for the bad guys.
We'll be issuing some new advice tomorrow, so today is a good time to make sure you're up to date on last year's advice!
1. Check computers for zombies and other malware
Most people seem to be using anti-virus software these days but the software is only as good as its most recent update.
If your family members have subscriptions that have expired, if they haven't done a baseline check lately, or if they're Mac, tablet or smartphone users and think they aren't vulnerable, get them a reputable product, bring it up to date and do a check for zombies and other malware today.
(Sophos offers free anti-virus software for Macs, as well as for Android.)
2. Enable WPA or WPA2 on home Wi-Fi
If anyone in your family is using unsecured home Wi-Fi or has secured their Wi-Fi with WEP encryption, take two minutes to switch them to WPA or WPA2 today.
If you think you have already set up WPA for them, go and check they haven't done a factory reset or anything that might have undone your work.
But, before that, watch our video on Busting Wireless Security Myths so you can see if anyone is engaged in any Wi-Fi security that's, well, mythical.
3. Set different passwords for every website
Make sure your family members are using different, strong, passwords for each website they log into. Thieves will often try stolen passwords on a range of popular websites because they know that people reuse them.
Help your family choose strong passwords that are at least twelve characters long and made up of a mixture of letters, numbers and special characters. If they have trouble remembering passwords then consider a password manager like LastPass or KeePass.
And one more thing…
Stay up to date with latest computer security news, opinion, advice and research by signing up to our daily newsletter, liking our page on Facebook, or following us on Twitter.
Image of road sign courtesy of Shutterstock.