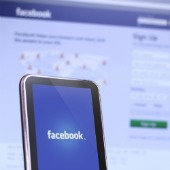 Remember when Facebook used to admit that it hadn't quite figured out how to milk money off of mobile advertising?
Well, say goodbye to that wireless refuge.
Facebook announced on Monday that it's relaunching Atlas, an advertising technology it bought from Microsoft last year.
The new ad platform will float on top of Facebook's deep, deep sea of user data to sell super-targeted ads on sites that aren't Facebook.
Those marketing missiles won't be thrown off by mobile gadgets.
Rather, Atlas will allow Facebook's partners to reach Facebook users anywhere the Zuckerbergians can see them on the web.
The news was announced in a post from Erik Johnson, Facebook's head of Atlas.
Facebook says that the ad platform is going to be great at solving "marketing challenges" such as how to follow us around as we bop from device to device.
Particularly problematic is following us around on those darn mobile devices, Johnson wrote, where cookies – i.e., small data files that a website can store on your computer and which your computer then shares with that website each time you view a page – don't work.
From his post:
Today's technology for ad serving and measurement - cookies - are flawed when used alone. Cookies don't work on mobile, are becoming less accurate in demographic targeting and can't easily or accurately measure the customer purchase funnel across browsers and devices or into the offline world.
So instead of cookie-addicted online ads, Facebook is proposing, with Atlas, something it's calling "people-based marketing".
Atlas will help marketers reach "real people" anywhere, Facebook says, with the ability to not only target and present advertising to us, wherever we free-range consumers may roam, but also to measure the effectiveness of ad campaigns "across devices, platforms and publishers."
Mind you, this is not an ad network, per se.
Re/code notes that Facebook's got a caveat about Atlas's non-ad-network-ness.
Having said that, Atlas is going to do everything Facebook's partners have long wanted it to do: let them buy ads, via Facebook, on properties that Facebook doesn't own.
Worried about people targeting you even better with ads by using whatever intel Facebook's got on you?
If you'd like a taste of what that might be like, the New York Times offered this example: imagine that PepsiCo – which is one of the first advertisers to sign on to the service – wanted to reach college-age men with ads for its Mountain Dew Baja Blast.
The Facebook data-fueled Atlas could identify several million such potential customers and show each of them a dozen ads for the fizzy stuff: on game apps, sports and video sites, for example.
Then, Atlas could deliver to Pepsi feedback to help it figure out which ads were the most effective.
Not to worry, Facebook assures us: your identity will remain anonymous to advertisers and publishers, which will just know some basic facts about us.
Worried about that kind of thing?
Well, what are you doing on Facebook?
For that matter, to echo Re/code's Peter Kafka, "the whole Web is probably a no-go zone for you. Sorry."
Image of Facebook mobile courtesy of Shutterstock.