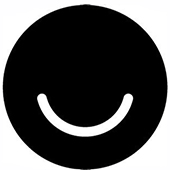 Either somebody really, really hates the idea of a social media platform that doesn't sell ads based on user data, or Ello is so popular it got trampled.
Either way, the new, advertising-free, invite-only, overnight social media sensation Ello – known as the "anti-Facebook" – was knocked out by a DDoS attack over the weekend and was still wobbly on Monday.
Ello got the site back up by blocking the responsible IP addresses, but it was reportedly still lurching for awhile, with users tweeting complaints about the service having gone down or refusing to upload posts as of Monday night.
At the moment it's unclear whether the instability was due to aftershocks from the attack or severe growing pains in recent days.
At any rate, Ello – which is considering charging small fees for premium features in order to keep the lights on – has certainly been slurping some kind of hormones to fuel its growth spurt.
Some stories peg the growth at 31,000 requests to join per hour, some peg it at 45,000, but bottom line, it's growing like gangbusters.
The Daily Dot points to Facebook's recent enforcement of its real-name policy as being behind a swath of psuedonym-deprived LGBTs and drag queens who have reportedly jumped the Facebook ship to take refuge in the psuedonym-tolerant Ello.
Ello launched in early August with the founding idea that ad-based social networks are corrupt and with a manifesto that "you are not a product".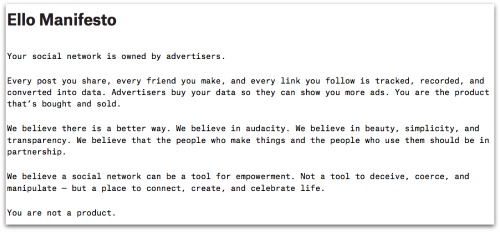 From the manifesto:
Every post you share, every friend you make, and every link you follow is tracked, recorded, and converted into data. Advertisers buy your data so they can show you more ads. You are the product that's bought and sold.

According to The Verge, Ello's waiting list is up to 1 million.
It's barely had time to crinkle its little red face and belt out its first screech, but Ello's already been accused of having a questionable monetization strategy, a weird interface with avatars sucking up half the screen, bugginess and the aforementioned downtime.
While naysayers point to the fact that all the machinery necessary to run a social media platform is going to be too costly for a freemium service to afford, Ello founder Paul Budnitz told the BBC that the company's got the chops to do the job:
We're learning as we go but we have a very strong tech crew and back end.

It's in beta and it's buggy and it does weird stuff - and it's all being fixed as quickly as we can.
OK, fair enough.
I say give Ello some time to iron out the wrinkles.
Web inventor Sir Tim Berners-Lee, for one, thinks that privacy-minded services like Ello are inevitable.
From a conversation the BBC filmed with him at the recent Web We Want festival, where he was asked if paying for Ello means users will, in effect, be paying to get back their privacy:
I think you'll see a growing number of services like [Ello]. People have ... realized ... "It's more important that my information is secure from other people, from prying eyes, and if necessary ... I'll pay for it."
I'm prepared to pay for services, to pay for good information, and I'm prepared to pay for the custodianship ... of my own data ... to pay for storage. I pay for the service to run a server... [and] paying for the fact that somebody's keeping the data: the effort to ... keep it, and back it up, and serve it. Privacy is a right I have, and in that case I'm not signing it away.