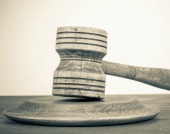 Those seeking to outlaw revenge porn in the US are now battling a coalition of free-speech advocates who claim the existing laws were thrown together so shabbily, they could arguably be used to criminalize a host of non-vengeful innocents who handle nude images: libraries, booksellers, college professors or breastfeeding educators, for example.
The plaintiffs include several bookstores, the American Civil Liberties Union (ACLU), the Freedom to Read Foundation, the American Association of Publishers and the National Press Photographers Association.
According to the National Conference of State Legislatures, anti-revenge porn bills were introduced or are pending in at least 28 states, the District of Columbia and Puerto Rico in 2014, and laws have been enacted in Arizona, Colorado, Georgia, Hawaii, Idaho, Maryland, Pennsylvania, Utah, Virginia and Wisconsin.
Arizona is ground zero for challenging the constitutionality of those laws.
The coalition has filed a lawsuit in that state, charging that Arizona has signed into law an overly broad revenge-porn bill that "criminalizes the display, publication, and sale of non-obscene images fully protected by the First Amendment."
According to the suit, each of these actions is a felony under the law, punishable by up to three years and nine months in prison:
A college professor in Arizona, giving a lecture on the history of the Vietnam War, projects on a screen the iconic Pulitzer Prize-winning photograph, "Napalm Girl," which shows a girl, unclothed, running in horror from her village.
A bookseller in Arizona offers for sale the books, Edward Weston: 125 Photographs (Ammo Books 2011) or Imogen Cunningham: On the Body (Bulfinch 1998), each of which contains nude images.
A library in Arizona provides computers with internet access to its patrons and, because no filters could effectively prevent this result, the library patrons are able to access nude or sexual images.
A bookseller or publisher, based outside of Arizona, offers for sale to retailers or consumers within Arizona, or displays to such retailers or consumers, books containing nude but non-obscene images.
Any person in Arizona, having bought one of these books, newspapers, or magazines, or borrowed it from a library, either in Arizona or out-of-state, shows a restricted image to a friend in Arizona.
A mother in Arizona shares with her sister, in the privacy of her home, a nude image of her infant child.
Michael Bamberger, one of the ACLU's attorneys on the case, told The National Law Journal that out of all the revenge-porn laws, Arizona's is likely the worst, given that it doesn't limit itself to criminalizing malicious disclosures:
This is probably the most egregious, because it has no requirement for malicious intent and no exception for images that are newsworthy. It applies to republication by people who have no idea how the image was first obtained.
The ACLU grants that the state has a legitimate interest in addressing what it calls "the real harms of revenge porn" but noted in its filing that any such law "must be narrowly tailored to address that problem."
If you're wondering how such laws have been passed without issues coming to light of their overly broad reach and lack of inclusion of things as basic as malicious intent, join the club.
The issues with the laws have been a topic on law blogs for a while, at any rate.
Here's one example.
It's easy to sympathize with lawmakers who might be in a bit of a rush to aid the victims of revenge porn, which is a vicious act against privacy.
But those laws have got to be sturdier than what's being put on the books now.
Hopefully, this lawsuit will spur lawmakers on to more thoughtful, more legally sophisticated drafting of legislation.
Image of gavel courtesy of Shutterstock.