Facebook's pulled an about-face on its real-name policy and offered a satisfying apology to the drag queens, drag kings, and others in the LGBT (lesbian/gay/bisexual/transgender) community who got locked out of their accounts recently.
Better still: Facebook's promised to fix what turns out to be, it admits, an unsophisticated policy that doesn't reflect the importance of pseudonyms in protecting people from harassment and violence.
Chief product officer Chris Cox issued the apology via a Facebook post on Wednesday.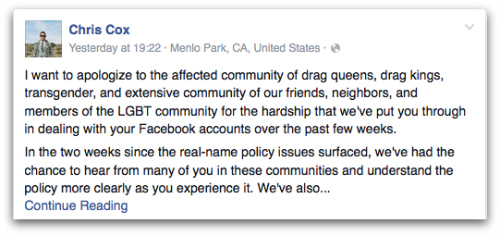 From the post (it's long, so read the whole apology here).
In the two weeks since the real-name policy issues surfaced, we've had the chance to hear from many of you in these communities and understand the policy more clearly as you experience it. We've also come to understand how painful this has been. We owe you a better service and a better experience using Facebook, and we're going to fix the way this policy gets handled so everyone affected here can go back to using Facebook as you were.
The trouble began in September, when Facebook suddenly began locking many performers out of their accounts, serving up a notice that it suspected they weren't using their legal names and wouldn't get their accounts back until they did.
Facebook's rationale: real names help to build "authentic" community.
The response of the performers shut out of their accounts: we've built online communities just fine over the course of several years using our stage names, thank you very much. Shutting us out of them just cuts the legs out from under those communities.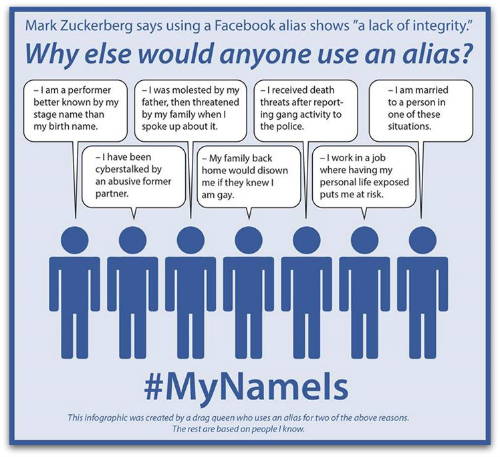 From a petition to allow performers to use stage names on Facebook that had received over 36,000 signatures as of Friday:
We build our networks, community, and audience under the names we have chosen, and forcing us to switch our names after years of operating under them has caused nothing but confusion and pain by preventing us from presenting our profiles under the names we have built them up with. People we have known (or who have known us) for years are unable to find us, communicate with us, or recognize us in our Facebook interactions now.
Last month, Facebook reps met with San Francisco Supervisor David Campos and activists and performers, including drag queen Sister Roma, at its Menlo Park, California, headquarters.
The outcome of that encounter was that Facebook barely budged on the real-name policy, giving people their accounts back for a measly two weeks.
Not what you'd call a particularly good outcome, Sister Roma said:
We didn't get the whole issue solved by any means. Facebook refuses to acknowledge that there is a problem with the policy.

Now we're trying to get Facebook to realize there's a problem with the way pages are reported and the way that those complaints are researched. There's a whole community of people that are being targeted and being bullied.

Basically, they offered to give us our profiles back so that two weeks later they could suspend them, demand we comply to their unfair and discriminatory policy and, if not, take them away again.

This is completely unacceptable.
Facebook has now admitted that it was gobsmacked by the uproar. It had no idea it was causing so much anguish, Cox said.
The whole mess can be blamed on one lone Facebook user who, it turns out, was mass-reporting accounts of drag queens, drag kings, transgenders and others in the LGBT community, he said.
Facebook didn't pick up on the pattern of this lone, serial reporter, pecking away as he or she was at his or her "report" button.
As it is, Facebook processes what Cox said are "several hundred thousand" fake-name reports every week, 99 percent of which are "bad actors doing bad things: impersonation, bullying, trolling, domestic violence, scams, hate speech, and more."
Facebook was just doing what it has done for over the 10 years that it's had the policy: ask the flagged accounts to verify they're using real names by submitting some form of ID – gym membership, library card, or piece of mail.
That process was humming along just fine until recently, Cox said, and has up until last month done "a good job of creating a safe community without inadvertently harming groups like what happened here."
Facebook's going to be working on its processes, but the upshot is that it's not going to mandate the use of legal names.
It will still require users to identify themselves with the "authentic name they use in real-life."
That's right, Sister Roma, Miles Long, Ursula Major, Pepper Pepper, Little Miss Hot Mess and all the rest of you creative people: you're welcome on Facebook and welcome under those names.
Cox said that there is "lots of room for improvement" in the reporting and enforcement mechanisms – tools that enable Facebook to understand who's real and who's not, as well as the customer service for anyone who's affected:
These have not worked flawlessly and we need to fix that. With this input, we're already underway building better tools for authenticating the Sister Romas of the world while not opening up Facebook to bad actors.

And we're taking measures to provide much more deliberate customer service to those accounts that get flagged so that we can manage these in a less abrupt and more thoughtful way.

To everyone affected by this, thank you for working through this with us and helping us to improve the safety and authenticity of the Facebook experience for everyone.
Facebook deserves praise for reaching out to the community, listening to the problems its policy has caused, admitting it has lots to learn, and committing to follow through and get it right.
Kudos to Facebook, and kudos to those who worked hard to make sure the company knew what was at stake.
#MyNameIs graphic courtesy of Unkle Mikey/Mike Woolson, for public use.