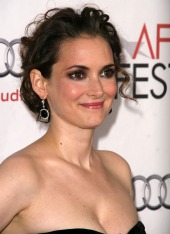 US wrestler Hulk Hogan's son, 24-year-old Nick Hogan, is believed to be the first male victim of the third installation in the serial doxing of celebrities' nude photos.
US actress Winona Ryder was also victimized, as was Vampire Diaries' Nina Dobrev, 90210 actress AnnaLynne McCord, and Victoria's Secret model Erin Heatherton.
According to news reports, this latest wave of images were published on Thursday as another "Fappening" subreddit sprung up on Reddit.
By Monday, the remaining Fappening subreddits were devoted to discussion, rather than as a forum to share images or direct others where to find them.
Thus, it would seem that since Thursday, Reddit whacked another rodent head in the whack-a-mole subreddits game – the game where online venues such as Reddit and 4Chan try to ban celebrity naked photo leakage under threat of Digital Millennium Copyright Act (DCMA) takedown notices.
This is the third installation of the serial photos-release crime – also known as Celebgate or as The Fappening by those who would trivialize invading people's privacy by making jokes about masturbation.
Targeted celebrities have included Jennifer Lawrence, Rihanna, Kim Kardashian, and Vanessa Hudgens, among many others.
In late September, it seemed that Emma Watson was also in line to be harassed, as a fancy site popped up bearing the ominous URL "emmayouarenext.com" and stamped with 4Chan branding.
That, it turns out, was a marketing stunt pulled by a firm that obviously doesn't mind alarming an innocent person with the threat of privacy invasion and subsequent harassment.
Subsequent fallout from the photo leaks has also included a lawyer's threat to sue Google for $100 million (£62,583,902) over its selective image takedowns.
So that's your regularly scheduled delivery of Monday's nude-celebrities news, and if you're like much of the internet, you've hit the snooze button and gone on to read something fresher.
Sure, there are plenty of people who want to see photos of, say, Nick Hogan's mother in a thong. You can check them out, of course, though online services are taking down photo-serving sites at a rapid clip – Google, for one, with its BlogSpot property.
At any rate, since Celebgate first grabbed people's attention when it began over the Labor Day weekend, by now it's beaten many of us into apathy.
That's a shame, given that every time we see more photos posted, it means that more celebrities have had their private lives treated like bird-cage lining.
I doubt that Winona Ryder or the other victims find this news stale.
But what about us? Why do we stop caring?
Rosanna Guadagno, a social psychologist and professor of Emerging Media and Communication at University of Texas at Dallas told Motherboard's Alex Ossola that our boredom is an outcome of a natural progression, as an event such as this passes from novelty into just another way humans can reach out and hurt other people:
...all of a sudden it becomes a part of our repertoire. With each successive wave, unfortunately these bad actions become on the menu of possible ways to engage in behavior.

There's definitely a saturation point, and it becomes more likely as the shock value goes down in any given event. 
The bystander effect comes into play particularly with the internet, she said, where there are plenty of other people around at any given time.
What can we, as individuals, possibly do to redress the crimes that have been committed?
Vigilantism is the tool available to us, Guadagno said.
We can flag or moderate irresponsible content – particularly content that's been exposed because of the crime of theft.
Each of us would all likely care if we were the ones targeted, or if it happened to somebody close to us.
Please don't stop caring about it happening to others.
And please, safeguard your accounts by learning how to create strong passwords.
Here is a short and straight-talking video that not only shows you how to pick a proper password, but also explains why you should bother.
→ Can't view the video on this page? Watch directly from YouTube. Can't hear the audio? Click on the Captions icon for closed captions.
Image of Winona Ryder courtesy of Shutterstock.