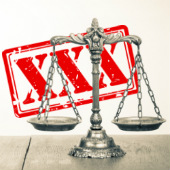 The UK's Crown Prosecution Service (CPS) has issued updated guidance on the posting of revenge porn online. The Director of Public Prosecutions (DPP) admitted that current laws are unclear.
The new approach would see serious cases of revenge porn prosecuted under the Sexual Offences Act 2003, which carries a maximum sentence of 14 years.
Recently published figures show how the UK has struggled to charge offenders in the past.
In fact, the eight police forces in England and Wales that hold data on revenge porn cases show that out of 149 allegations over the last two-and-a-half years, only 6 led to a police caution or charge.
Now though, the CPS says anyone thinking of posting explicit images of their ex-partner online should expect to be brought before the courts, with a spokesperson saying:
No one should have to suffer the hurt and humiliation of "revenge pornography" - a nasty and invasive crime that appears, anecdotally at least, to have increased as social media use has gone up.

The Crown Prosecution Service prosecutes these cases using a range of current laws, and we have now clarified our legal guidance to set out clearly how these cases should be brought to court.

Due to the very personal nature of "revenge pornography" prosecutors are being asked specifically to consider the impact on the victims involved.

The new guidance also makes clear that the context of each case needs to be considered alongside current guidelines to ensure that the most appropriate legislation is used when prosecuting. The public, and indeed those intent on attacking former partners in this way, can now see clearly that this is a crime that can and will be prosecuted.
What about the offending images once they've been posted online?
UK MP Maria Miller said in June this year in a House of Commons debate on revenge pornography:
The social media and ISPs need to play their part. They should improve their policies, respond so that people can use their services safely and ensure that, when images are posted that should not be, there are clear ways to take action. I know from my discussions with Google, Facebook, Yahoo and others that they, as major global businesses, do not want their business model to include support for those who break the law. If revenge pornography were clearly illegal, they would, I am sure, ensure that such sites could not be promoted through their search engines.
Speaking to the Telegraph on Monday, Miller bemoaned the currently ineffective laws covering revenge pornography and highlighted how what she called a "virtual form of sexual assault" could damage victims for months or even years after, wrecking personal lives and trashing future career prospects.
The former Culture Secretary went on to welcome the new guidelines issued by the CPS but said a change in the law was still required in order to appropriately address and criminalise the problem, highlighting how countries such as the US (where charges and lawsuits are already common), Canada and Israel had already enacted new legislation to tackle revenge porn.
Miller has called for a change in the law as part of the Justice and Sentencing Bill, saying that an amendment to criminalise the posting of revenge porn should be considered before the Bill passes through The House of Lords later this month.
Composite image of xxx stamp and justice scales courtesy of Shutterstock.