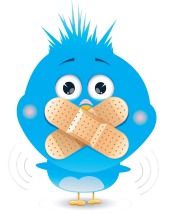 Twitter doesn't want its transparency report to be fuzzy to the point of meaninglessness, full of "broad, inexact ranges" about how many times the US government has shaken the company down in its surveillance operations, it says – for example, by counting them to the nearest thousand.
So on Tuesday, Twitter sued the Feds over the surveillance laws they're using to gag it.
Twitter's lawyer, Ben Lee, said in a post that First Amendment rights should allow the company to be crystal clear about the actual scope of surveillance of Twitter users by the US, as opposed to the current state of affairs, where companies such as Twitter are bound by laws that punish them for disclosing requests for information.
From his post:
Our ability to speak has been restricted by laws that prohibit and even criminalize a service provider like us from disclosing the exact number of national security letters ("NSLs") and Foreign Intelligence Surveillance Act ("FISA") court orders received - even if that number is zero.
In its latest transparency report, released in July, Twitter described how the government was blocking it from reporting on the actual scope of surveillance done on its users.
Twitter wants to be free to tell users the types of legal process that the Feds are using to get that user information, as well as which legal processes haven't been used.
In an attempt to rip off the gag, it filed a lawsuit in federal court against the Federal Bureau of Investigation (FBI) and the US Department of Justice (DOJ).
The suit (PDF), filed in the US District Court of Northern California, asks the court to declare restrictions on Twitter's ability to speak about government surveillance as unconstitutional under the First Amendment.
Twitter says that the Ninth Circuit Court of Appeals will consider the constitutionality of the non-disclosure provisions of the NSL law this week.
The American Civil Liberties Union (ACLU) is cheering Twitter on.
Jameel Jaffer, ACLU deputy legal director, said in a statement that "challenging this tangled web of secrecy rules and gag orders" is the right thing to do, given that the gag rules violate the First Amendment.
Now, with any luck, he said, other companies will follow suit:
We hope that other technology companies will now follow Twitter's lead. Technology companies have an obligation to protect their customers' sensitive information against overbroad government surveillance, and to be candid with their customers about how their information is being used and shared.
Other companies have, in fact, been fighting back against US surveillance.
Both Apple and Google announced in September new mobile phone encryption policies meant to thwart government attempts to get at user data – a move that's sparked hand-wringing on the part of multiple government officials.
Other US tech companies, including Microsoft, Facebook, Dropbox, and, again, Google, have been fighting government demands for user data in other ways, including attempting to convince the Senate to reform government surveillance.
Image of gagged tweet courtesy of Shutterstock.