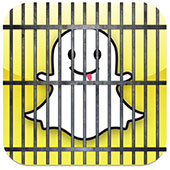 Hundreds of thousands of supposedly self-destructing Snapchat snaps have been apparently jimmied out of the database for SnapSaved.com, a third-party website not affiliated with Snapchat that allows users to save unopened photos from Snapchat without the sender knowing the images have been saved.
From a message posted to the SnapSaved.com Facebook page (the website is currently down):
I would like to inform the public that snapsaved.com was hacked... We had a misconfiguration in our Apache server. SnapChat has not been hacked, and these images do not originate from their database.
As the Independent and other news outlets are reporting, messaging boards on the sludgy website 4chan have been filling up with tittering about the theft of the Snapchat images.
You remember Snapchat, right?
It's that app that likes to say that images disappear – poof! – super fast. Which is a great idea, mind you, to keep its particularly young user base from sexting and living to rue the day.
Too bad it's just an idea that doesn't correspond to reality; the reality being that nothing stops a recipient from snapping a photo of the incoming flesh-o-gram.
Meanwhile, the supposedly disappearing images stay right on your phone (at least, they did when Paul Ducklin had a look last year).
There goes that "ephemeral" claim – poof!
And, of course, services such as SnapSaved.com which can grab them for the recipients. From another post on its Facebook page: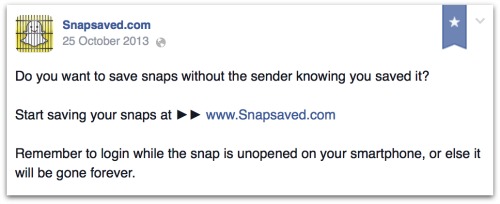 Do you want to save snaps without the sender knowing you saved it?

Start saving your snaps at www.Snapsaved.com

Remember to login while the snap is unopened on your smartphone, or else it will be gone forever.
Which brings in the claims of the Snappening: namely, that 200,000 saved Snapchats were released over the weekend
The cutesy name, "The Snappening", presumably comes from The Fappening – also known as Celebgate, the serial release of celebrities' private photos.
A blogger named Kenny Withers (NSFW) apparently first brought the Snappening to light and has maintained a running update of the 4Chan threads.
He says the images have been released as a torrent of 13GB of photos and videos. However Snapsaved.com claims only 500MB of images were stolen.
Snapsaved.com also says "0 personal information" was stolen in the breach.
In a statement on Thursday night, Snapchat said:
We can confirm that Snapchat's servers were never breached and were not the source of these leaks.

Snapchatters were victimized by their use of third-party apps to send and receive Snaps, a practice that we expressly prohibit in our Terms of Use precisely because they compromise our users' security. We vigilantly monitor the App Store and Google Play for illegal third-party apps and have succeeded in getting many of these removed.
However many photos there are, we're talking about a doxing that would largely fall under the category of child pornography, given how young SnapChat's user base is.
Parents, please, just play it safe, and don't let your kids near these type of apps.
And for those of you over-age, remember that once you send a photo it's out there forever. Just because it says it'll "disappear", doesn't mean that it will.