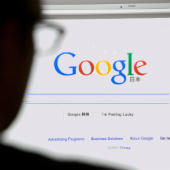 Takedown-rights fever has hit Tokyo, where a District Court on Thursday issued an injunction forcing Google to take down about 120 of 230 search results that implicated a Japanese man in past crimes.
The Wall Street Journal reports that the Japanese plaintiff requested an injunction in June because he felt his life was being endangered by the results that came up when somebody searched on his name.
The plaintiff's lawyer, Tomohiro Kanda, told the newspaper that the court's decision is a win for people being plagued by their pasts showing up in Google searches:
This is good news for those who feel their lives are threatened and are sickened physically and psychologically by Google's search results.
He called Thursday's court decision "groundbreaking", given that this is the first time the Japanese court had decided to force Google to forget anybody.
The Tokyo court's decision is only provisional, however, unlike the legislative order handed down by the EU's highest court that forced Google to forget people.
Google is, in fact, reviewing the preliminary injunction, it said.
Regardless of its preliminary nature, the injunction is still more grist for the debate that's raging between online privacy advocates and those who argue that takedown requests stifle freedom of speech and intellectual inquiry.
Of course, there's no such thing, really, as permanent death for an internet link. Pages that are "taken down" haven't really gone anywhere.
They've just sunk into the internet's belly, down below the upper levels of Google's indexing maw.
In fact, July saw the launch of a site, Hidden From Google, put up as a repository for links being censored by search engines due to the EU's decision.
Google officially started accepting requests from users to remove links on 29 May.
In its Transparency Report, Google said that since then, and as of Monday evening, it had received 146,938 removal requests from the EU, evaluated 498,830 URLs, and agreed to submerge a total of 171,214 links.
The French top the list of Europeans who want to erase their paths, asking for 89,294 URLs to be removed. Google agreed to take down 36,509 of the URLs.
Germany comes second: Google evaluated 88,974 URLs and took down 39,894 URLs.
The UK comes next, with Google receiving 18,597 removal requests, checking out 63,616 URLs and agreeing to take down 18,457 of them.
Google gave some examples of the requests it's gotten, along with its decisions, including:
Italy: A woman requested that Google remove a decades-old article about her husband's murder, which included her name. Google removed the page from search results for her name.
Switzerland: A financial professional asked Google to remove more than 10 links to pages reporting on his arrest and conviction for financial crimes. Google removed nothing.
Germany: A rape survivor asked Google to remove a link to a newspaper article about the crime. Google removed the page from search results for his or her name.
UK: A media professional asked that Google remove four links to articles reporting on embarrassing content he posted to the internet. Google declined.
UK: A man who lost his job for sexual crimes committed on the job asked to have links to articles about it removed. Google said no.
UK: A doctor asked Google to remove more than 50 links to newspaper articles about a botched procedure. It removed three pages that contained the doctor's personal information but that didn't mention the procedure from search results for his name, but it left up the rest of the links to reports on the incident.
From the Transparency report, this shows the domain that have had the most URLs removed: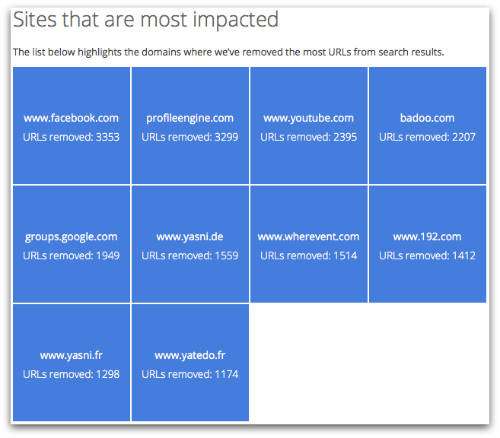 Out of all the most affected domains, Facebook had the biggest hole taken out of its hide, with 3,353 Facebook.com URLs taken down.
Google's also dug in its own backyard, with 2,395 YouTube URLs getting axed.
Image of man using Google courtesy of Shutterstock.