Remember how Apple last month tied everybody's iTunes accounts down on a table, put a tube down their throats, and force-fed U2's latest album, Songs of Innocence, giving it away for free on all devices, without users' opt-in or say-so?
U2 has recently released a followup ditty: let's call it Songs of OOOPS!
In an interview posted to Facebook, a U2 fan – or, well, maybe just somebody who took advantage of the chance to tell off the band – asked this question: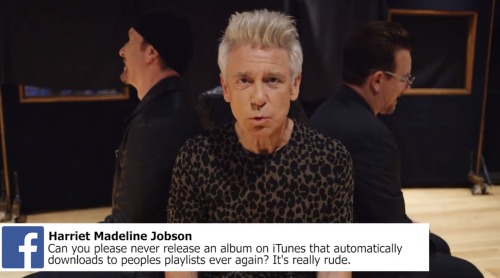 Can you please never release an album on iTunes that automatically downloads to people's playlists ever again? It's really rude.
Frontman Bono, looking sheepish and grim, took the question. Here's his mea culpa:
Oops ... I'm sorry about that. I had this beautiful idea. Might have gotten carried away with ourselves. Artists are prone to that thing. A drop of megalomania, a touch of generosity, a dash of self-promotion, and deep fear that these songs that we poured our life into over the last few years might not be heard. There's a lot of noise out there. I guess, we got a little noisy ourselves to get through it.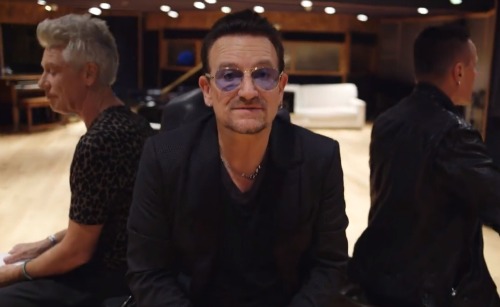 To be fair, it was undoubtedly a generous offer, even if it was laden with – come on, Bono, let's call a spade a spade – far more than a "dash" of self-promotion, given that it was a good way to zoom to the top of the charts.
As well, plenty of fans were thrilled to be spammed and profuse in their gratitude.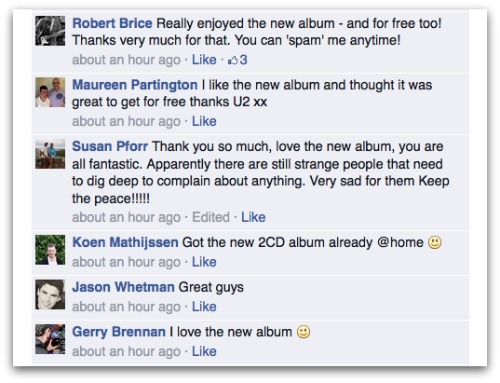 You'll notice that one fan was a bit mystified at the "strange people that need to dig deep to complain about anything", but at least she was feeling compassionate:
Very sad for them Keep the peace!!!!!
Others simply wondered if those "strange people" (around Naked Security and other privacy/security-concerned places, they might still be "strange", but they're also pretty run-of-the-mill) had broken their fingers or forgotten how to simply press the "delete" button.
No, we received no reports of delete-key-related maladies that I'm aware of.
We did receive a lot of input from readers who, among other things, asked why Apple didn't devote its time and energy elsewhere:
Why don't you spend your time improving icloud security instead of this meretricious garbage
Oooo, A Celebgate swipe makes its way into a story about opt-in vs. opt-out!
Apple eventually relented and let users "depurchase" the album they never bought in the first place.
And as Paul Ducklin noted at the time, even some readers of a security blog like Naked Security told us to quit our griping, for crying out loud:
Hey, it's a gift so stop the ridiculous fussing. If you don't want it just don't download it. OK? My goodness all these desperate, angst-inspiring First World problems.

But at the end of the day, the "strange" security people are going to have to stick to our guns: Apple's business shouldn't be to push extraneous, potentially unwanted, definitely not requested material to our devices, be they apps, music, or what have you.
Not to be paranoid or anything, and not to be completely conscious of the surveillance insanity that the US and other governments are operating under or anything, but it must be said: content loaded without user consent could be spyware, could be malware, could be anything.
So please, ask us first.
It sounds like Bono got that message.