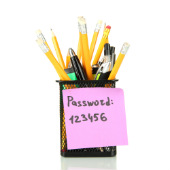 The vast majority of people are leaving themselves at risk of identity theft, fraud and extortion by not taking simple but necessary steps to protect themselves online, according to a new study from Cyber Streetwise.
The security awareness campaign, run by the UK government, discovered that 75% of survey respondents were failing to follow best practice guidelines when creating complex passwords for new and existing accounts.
More than 1 in 3 (35%) of those questioned said they struggle to remember strong passwords, which is unsurprising given that the average Briton now has 19 of them to remember.
95% percent of those surveyed said they take responsibility for their own security online. That's a good thing, but 47% admitted using particularly unsafe passwords such as notable dates and the names of their pets.
It appears that the population is aware of the role it has to play in protecting itself, but is lacking in the ability or knowledge to take the necessary steps.
We can help with that! Here's a little video on how to pick a proper password
→ Can't view the video on this page? Watch directly from YouTube. Can't hear the audio? Click on the Captions icon for closed captions.
With cybercrime as a whole posing a sizable challenge to the UK, the government has pledged £860 million over 5 years as part of its plan to enhance the country's response to online security threats.
With public awareness of online security forming a key part of the government's initiative, Karen Bradley, Minister for Modern Slavery and Organised Crime, said:
When passwords are compromised, financial and banking details can be stolen, causing problems for the person affected, for businesses and for the economy. There is an emotional impact caused by the loss of irreplaceable photos, videos and personal emails, but even worse, these can be seized to extort money.

We can and must play a role in reducing our risk of falling victim to cyber crime. Most attacks can be prevented by taking some basic security steps, and I encourage everyone to do so.
So, when choosing passwords, avoid words found in a dictionary as well as anything which could be associated with you as a person, such as the maiden names and the birth dates of yourself or members of your family.
Use 14 characters or more and mix up UPPER CASE LETTERS, lower case letters, d1g1t5 and \/\/@ckies.
You can use a password manager, such as LastPass or KeePass which will remember your ever-growing list of login credentials so you don't have to.
Sophos is supporting the Cyber Streetwise initiative with tools, tips, videos and more.
Image of password courtesy of Shutterstock.