Heads up, all you privacy-hugging Facebook haters!
Unless you change your Facebookless ways, then the next time Dr. Evil's about to feed you to "sharks with frickin' lasers" strapped to their heads, you're going to miss out on the chance to alert your friends and family that you are definitely Not OK.
That's because on Thursday, the citizens of Facelandia were graced with a new tool called Safety Check that lets users tell friends if they're OK when disaster strikes.
(One assumes that if Facebook users aren't OK, they're doing more constructive things than posting updates on Facebook. Like, say, calling the police or the Navy SEALs, or, perhaps, yelling.)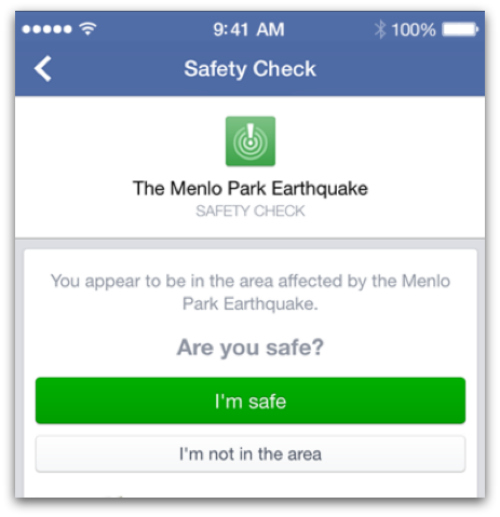 But in all seriousness, people do, in fact, turn to social media to check on loved ones after disaster strikes, as Facebook said on its official blog:
In times of disaster or crisis, people turn to Facebook to check on loved ones and get updates. It is in these moments that communication is most critical both for people in the affected areas and for their friends and families anxious for news.

Safety Check grew out of Japan's experience with the devastating 2011 magnitude-9 earthquake and tsunami – a disaster that affected more than 12.5 million people and caused the evacuation of 400,000, according to the Japanese Red Cross.
In the aftermath, Facebook engineers in Japan built the Disaster Message Board to make it easier for people to communicate.
Facebook kept working on that message board – work that's now culminated in Safety Check, which will be available globally on Android, iOS, what Facebook's calling "feature phones", and desktop.
Here's how it works:
Safety Check figures out where you're at, either by looking at what you were most recently beaming out as your location with Nearby Friends or by checking out the city listed in your profile, as well as by the city where you're using the internet.
If Facebook gets your location wrong – after all, it's not exactly the NSA, right? – Safety Check lets you mark that you're not in the danger zone.
Otherwise, if you're safe, you can select "I'm Safe", and a notification and News Feed story will be generated with your update, and your friends can also mark you as safe.
If you've got friends in the danger zone who are using the tool, you'll get notified if they've marked themselves safe, and you can click on the update to see a list of their updates.
Facebook hopes it helps during those times when you've got people to worry about:
If you're ever in a situation that would require you to use Safety Check, we hope it's a tool that helps you stay connected to those you care about, and gives you the comfort of knowing your loved ones are safe.

I hope so, too. It sounds like a tool that can corral what can be a scattershot way to get updates from a range of social media about your loved ones when something bad happens.
The Facebook engineers who worked on this have put their first-hand experience with living through the 2011 earthquake to work to produce something that could truly help in times of disasters.
However, you might want to be careful if you do decide to turn on Nearby Friends to use Safety Check.
Facebook introduced Nearby Friends in April. It's a Foursquare-ish feature that lets you share your real-time location with your friends/family/stalkers on Facebook.
Not surprisingly, that has privacy implications.
To its credit, Nearby Friends is opt-in, so it's easy to just ignore it. Also, it's only available to people over 18.
Another good thing about Nearby Friends is that it relies on a reciprocal privacy model that only shows your location to friends who've also turned it on. Neither can you see somebody's exact location unless they've purposefully shared it with you.
That's all well and good. But while you can select a specific list or group of friends you want to share your location with, it's all too easy to neglect to change the setting after you've set it to show your location to all your friends – and we all know how wide a net that can be and the type of oversharing that can result.