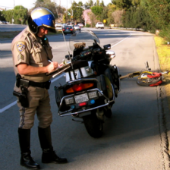 California Highway Patrol (CHP) cops have allegedly been stealing women's photos and passing them around in a nude-photo "game" that included making juvenile comments about their victims' looks, one officer has admitted.
It's been going on for years, CHP Officer Sean Harrington, 35, of Martinez, California, told Contra Costa County prosecutors, according to SFGate.
Harrington admitted to forwarding photos from the mobile phone of a woman he had arrested in a driving under the influence (DUI) case, sending them to his own phone, and then sharing them with at least two other CHP officers, according to a search warrant cited by the news outlet.
Harrington, who works out of the Dublin, California office, confessed to stealing explicit photos from two Contra Costa County DUI suspects and forwarding them to at least two other officers.
He's said that he's played this "game" "half a dozen times in the last several years", and that he learned how to find and steal explicit photos while working for the Los Angeles CHP department.
The Contra Costa Times reported on a similar stolen-photo incident at a CHP office in Los Angeles two years ago – a case that Chief Avery Browne acknowledged.
SFGate reports that one of Harrington's alleged victims is a 19-year-old woman, identified in court records only as Jane Doe 2, who had been involved in a DUI crash in Livermore on 7 August.
Harrington allegedly stole photos of her in a bikini from her phone as she was undergoing X-rays following a crash.
Harrington allegedly sent the photos to fellow Dublin CHP Officer Robert Hazelwood with this text:
Taken from the phone of my 10-15x while she's in X-rays.
"10-15x" is reportedly police-speak for a female arrestee.
According to the affidavit, Hazelwood allegedly responded:
No f— nudes?
The alleged photo thefts were discovered after the 29 August arrest of a 23-year-old woman in a San Ramon DUI case.
After getting out of jail, the woman, identified in court papers as Jane Doe 1, realized that six photos of her in various stages of undress had been forwarded from her iPhone while she was in custody, investigators said.
Harrington also exchanged text messages with Hazelwood less than half an hour after Harrington had allegedly stolen the six photos, the affidavit says.
Hazelwood apparently wasn't satisfied with the photos of Jane Doe 1. He allegedly responded:
Nudes are always better with the face.
Harrington made a crude comment about the woman's face, authorities said, after which Hazelwood allegedly asked to see her driver's license photo.
Harrington said he'd send it when he got back to the office, along with her mug shot from the Martinez Detention Facility where he had taken Jane Doe 1.
Authorities said that Hazelwood commented that her "body is rocking though".
This is far from an isolated case. Police have been accused of similar stunts several times over recent years, including:
In 2011, after her arrest on suspicion of public drunkenness by a Morgan Hill police officer, Casey Serrano alleged that a corporal found a nude photo stored on her phone and uploaded it to her Facebook profile while she was in custody. Serrano said another officer accessed her phone and deleted photos of his patrol car, according to court documents and her lawyer, Oakland attorney and mayoral candidate Dan Siegel. Serrano filed a claim against the city and received a $75,000 settlement, Siegel said. The corporal was demoted, and the officer who deleted the photos was fired.
In May, a Long Island woman, Pamela Held, sued a New York police officer and the city of New York, alleging that 20 nude photos and 5 risque videos of her and her boyfriend were forwarded from her iPhone to her arresting officer's personal mobile phone while she was in custody. According to the New York Daily News, she gave a female cop her iPhone and its security code but became worried when the officer left the room with it.
A patrol officer in Houston, Texas found nude photos on the mobile phone of a woman whom he arrested for DUI in 2005. He allegedly downloaded them and later showed them to other officers and attorneys at a courthouse, according to the Houston Chronicle. Houston patrolman Christopher Green was fired, as well as his partner, Officer George Miller, who allegedly called the woman's house to ask her on a date, according to the paper. Green, however, was reinstated soon after, given that there weren't rules against what he'd done at that point.
The allegations against Harrington have shocked law enforcement and privacy experts, particularly following a June Supreme Court ruling forbidding police from searching a suspect's mobile phone without a warrant.
Know your rights
When Jane Doe 1 was pulled over under suspicion of DUI, she handed over both her phone and her password.
Did she have to do that? Are we in fact required to hand over passwords when police arrest us and seize our phones or other devices?
No, we are not – at least not in the US. As the Electronic Frontier Foundation explains, US citizens' rights against unreasonable search are covered by the Fifth Amendment, which protects us against giving self-incriminating testimony – including passwords or encryption keys, courts have generally agreed.
Of course, it should go without saying that all your devices should be secured with a password or encryption key. Otherwise, an arresting officer wouldn't even have to demand that you unlock your phone – you've made it a moot point.
Why make it that easy for anybody who picks up – or steals – your device to see your selfies, your videos, or whatever other private information you're carrying around in your pocket or purse?
Image of California Highway Patrol licensed under Creative Commons