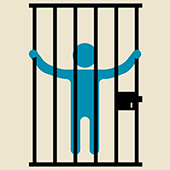 One of the two leaders of the cyber criminal group known as Team Digi7al was last week sentenced to two years in federal prison for his role in breaking into the computer systems of a pretty random mix of targets.
Those targets include Toronto police, national security sites, and a Defense Department agency responsible for maps, among over 50 public and private organisations.
Prosecutors had accused the team of being anti-government cyber crooks, but their real motives seemed to boil down more to boredom and the need to show off.
Or, as one of the team leaders described Team Digi7al, "Just a group of people that were dumb and did dumb things."
For those dumb things, 20-year-old Daniel Trenton Krueger, of Dix, Illinois, who was a student when the group committed the break-ins, will be serving two years in jail after having pled guilty in May 2014.
US Attorney Danny C. Williams Sr. said in a press release that Krueger's co-defendant, Nicholas Paul Knight, 27, of Chantilly, Virginia, will be sentenced on 21 November.
Team Digi7al broke into networks belonging to more than 30 governments, companies and individuals from about April 2012 up until about June 2013.
During that time, Knight was an active-duty enlisted member of the US Navy aboard the USS Harry S. Truman.
The team's trespasses were discovered in June 2012, when the Naval Criminal Investigative Service (NCIS) detected a breach of the US Navy's Smart Web Move (SWM) database, which stored personal records, including taxpayer numbers, names, and dates of birth, for about 222,000 service members.
Team Digi7al stole personal information about employees and customers, some of which it then published. Prosecutors said that the breach affected more than 700 deployed overseas service members, who were shut out of accessing logistical support for transfers for more than 10 weeks. 
After the break-in, Team Digi7al members posted links to the stolen information on the group's Twitter account.
The team also took to Twitter to brag about upcoming online escapades, including a 22 May 2012 warning about a "rampage across Canada". Accordingly, the team tweeted the next day that it would soon reveal Toronto Police Department's database.
Knight and Krueger walked right into a sting operation set up by the NCIS after investigators discovered Knight regularly accessed the Team Digi7al Twitter account from within the Navy's own network. 
According to Reuters, Knight hacked a phony database set up by authorities on board the ship.
Both Knight and Kreuger later admitted their roles in leading the Team Digi7al crime spree.
Knight, who was consequently discharged from the Navy, allegedly described himself as a "nuclear black hat" fighting for the people of the United States rather than the government. 
How disrupting a database set up to help people with the logistics of moving around the world does anything positive for the people of the US is way, way beyond me.
Krueger, for his part, said he hacked the Navy-SWM database "out of boredom".
Krueger got off pretty easy with a two-year sentence, given that he could have faced up to five years in a federal prison, a $250,000 fine and restitution to the Navy and other victims. 
Knight, of course, will be facing similar maximum penalties when he's sentenced in November.
What a mess, and what a waste of two young people's time and talent, squandered on show-offy stunts, resulting in prison time.
Image of jail courtesy of Shutterstock.