Today marks the end of National Cybersecurity Awareness Month.
NCSAM is supposed to teach us to start taking computer security more seriously.
It's also All Hallows' Eve, better known as Halloween.
That's when lots of youngsters will be out and about, knocking on other people's doors and saying, "Trick or Treat."
Ironic, isn't it?
On one hand, we're making an effort to bolster our defences against the depredations of cybercrime threats such CryptoLocker and CryptoWall.
Those are ransomware programs that scramble your hard disk and announce, "Give me $300 or else…"
On the other, we're tolerating our children telling other people, "Give me sugary treats or else…"
There is a big difference, of course, namely that trick-or-treating (whether you approve of it not) generally happens in good humour, for a limited time, and in a controlled way.
The threat of a "trick" is, at least in theory, an idle one.
Cybercriminality, however, is far, far from just a spot of good-hearted neighbourhood fun that happens on 31 October.
And the threat is far from idle, both in theory and in practice.
Your Halloween treat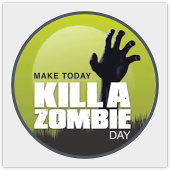 So we're calling on all of you to give yourselves, your friends and your family a Halloween treat: join our Kill a Zombie campaign!
We mean computer zombies, of course, also known as bots, or "computer robots."
That's the sort of malware that cybercrooks use to co-opt your computer into a robot network, or botnet for short, that makes it possible for them to carry out their online crimes.
Think about it: a common botnet has about 10,000 participating computers, all of them co-operating in a wave of cybercriminality that, amongst other things, can result in each infected computer sending 5,000,000 spam emails each week.
So the botmaster – the crook in charge of the botnet – can send 50 billion spams a week, and someone else is paying for the electricity and the bandwith to do it all.
Fifty BILLION spams a week, essentially for free!
And that's before the crook uses the zombie malware on all those computers for other nefarious tasks, such as monitoring your keystrokes to steal passwords, searching through your files for interesting data, or using your network as a jumping-off point for their next wave of attacks.
Steps you can take
Here's what you can do:
The crooks can't have a botnet without the bots to join it.
So let's take their bots away!
Killing computer zombies is the perfect sort of altruism: you help the global internet community simply by helping yourself.
Kill a Zombie with the free Sophos Virus Removal Tool
This is a simple and straightforward tool for Windows users. It works alongside your existing anti-virus to find and get rid of any threats lurking on your computer.
It does its job without requiring you to uninstall your incumbent product first. (Removing your main anti-virus just when you are concerned about infection is risky in its own right.)
Download and run it, wait for it to grab the very latest updates from Sophos, and then let it scan through memory and your hard disk. If it finds any threats, you can click a button to clean them up.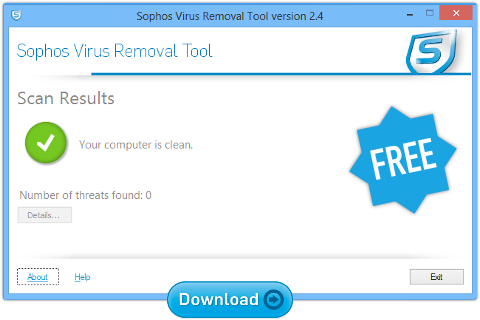 Other free tools to protect you from bots
All the features of our commercial UTM for use on a spare computer or in a virtual machine. You get web filtering, email filtering, virus scanning, intrusion prevention, CnC traffic detection, a web application firewall and a full-on Virtual Private Network (VPN) solution for up to 50 computers or mobile devices at home.
• Sophos Anti-Virus for Mac Home Edition
A standalone version of our business grade anti-virus for OS X. You get real-time (on access) malware prevention, web filtering, scheduled scans, malware cleanup and more, plus it keeps itself up-to-date automatically.
Image of illuminated pumpkin courtesy of Shutterstock.