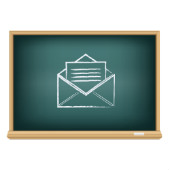 The ex-lover of a Pasadena teacher has been arrested and bailed in Los Angeles county, accused of breaking into the teacher's school email account and using it to send out "sexually explicit" photos of said teacher to students and fellow staff.
The story began in July, when over 200 people received the "inappropriate" pictures from the email account of Richard Rosa, a science teacher at John Muir High School in Pasadena, California.
As well as students, teachers and other school staff, recipients included at least one member of the Board of Education of the Pasadena Unified School District.
Within 24 hours, the school had emailed an apology to everyone who got the original message, and the incident had been reported to police.
Their investigation quickly ruled out Rosa as the sender, and by late July fixed on 38-year-old David Antonio Galvan, a former boyfriend of Rosa, as the prime suspect. A warrant for Galvan's arrest was issued, but he quickly left the state.
Galvan was eventually tracked down to Hillsboro, Oregon, where he was arrested on 21 October and brought back to Los Angeles by US Marshals.
He has been charged with two felonies: false impersonation and identity theft; and three misdemeanor counts: one of "electronic impersonation" and two of distributing obscene matter.
The incident highlights once again the ease with which modern communications technology can be abused by those who feel slighted or aggrieved.
Trolling and revenge porn aim to hurt, distress and embarrass victims, and in situations like this, can have a devastating impact on careers and reputations.
Rosa was described at the time as a popular teacher, whose students and friends supported him in interviews with local media and by mounting a petition, which gathered 500 signatories.
California's revenge porn laws were recently extended to cover selfies, which may impact this case given that at least one of the pictures involved was self-taken.
It's not just celebrities who have to worry about the privacy of their intimate snaps, but as much of the public feedback from the recent "Celebgate" media circus hammers home, people shouldn't be blamed for wanting to take and even share photos of their bodies.
Of course we should try to keep such things private and secure, but the weight of blame for leaks lies on those who perpetrate those leaks, which are almost invariably a crime as well as a breach of personal trust.
There is a serious security take-away here though.
Email accounts are precious extensions of our real-world lives, and need to be kept secure.
This applies especially to work email accounts, access to which shouldn't ever be shared with anyone, even a trusted partner. If a relationship turns sour and you suspect your former partner may be able to access your email or any other account, take steps to lock them out.
It seems the school involved was using the education-specific version of Google's Gmail. It would be advisable for any school, business or other institution to insist on two-factor authentication as well as strong passwords to minimise the risk of unwanted intrusions like this one.
Image of email on blackboard courtesy of Shutterstock.