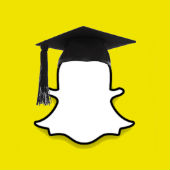 What would it take to pry Snapchat out of the hands of college age users?
Heaven knows, given that nothing's worked so far.
According to a report from Sumpto, a firm that markets only to those with a .edu glued to their email addresses, the fact that nearly 100,000 private photos and images were stolen from a third-party Snapchat service and posted online have been met by a collective, collegiate, ho-hum of a shrug.
As Mashable reports, the company polled 1,800 undergraduate students from around the US and found that, leak be damned, full speed a-Snapping they will go.

Of those polled, 75% said the thievery and resulting image spillage wouldn't change how they use the supposedly ephemeral image service.
(Ephemeral, that is, unless a recipient's using a third-party service with security problems, such as SnapSaved.com, to collect the snaps. Or unless they just quickly take a screenshot of an incoming snap before it dissipates. Or unless somebody delves into the phone's guts and drags them out.)
Another 58% of college undergraduates report that they trust Snapchat.
Well, there's a bit of hope, at any rate: at least 42% of students don't trust Snapchat, which is pretty good, considering that Snapchat snapped up the worst rating – one measly star – out of all the companies ranked by the Electronic Frontier Foundation (EFF) in its fourth annual Who Has Your Back report – a rating of who does what when the US government goes after user data.
Another interesting finding was this: While a whopping 74% of polled students said they'd communicated with their parents via Facebook, only 18% have Snapchatted with their parents.
Parents, are you worried about your kids using Snapchat? Are you worried that they might be sexting, under the mistaken notion that their private photos will disappear and that they won't come back to haunt them in doxing incidents such as The Snappening?
Or that cyberbullies will use snaps to torment your children?
Or that intimate photos of your children might wind up on revenge porn sites?
Here's a thought: Perhaps you should start using Snapchat yourself.
After all, parental adoption of an app seems to have an influence over offspring like unto that of Kryptonite to Superman.
Composite image of Snapchat logo and mortarboard courtesy of Shutterstock.