The dangers of Facebook to teens and young people is well documented. From online predators to cyber bullying, parties gone wrong to sextortion, it's had its fair share of bad press.
But it's not just Facebook where teens are hanging out. In fact, it isn't as popular as you might think.
Teens' interest in Facebook is fading and they're heading in droves to apps and social platforms where they can't bump into their dads, and can post photos without shocking Grandma.
If you want to protect your kids you need to know where they are. Here are 7 apps and websites you need to be aware of:
Instagram
According to a recent study, Instagram is now the most popular social network for US teens. Out of the 7200 teenagers surveyed, 76% were active on Instagram compared to just 45% on Facebook.
Instagram has lagged behind other social networks badly when it comes to using HTTPS which means that account hijacking is trivial.
It's important to make sure your teen's privacy settings are locked down as photo visibility is set by default to public. They can do this by opening Instagram, going to their profile, choosing Edit your profile and toggle Posts are Private to on.

This means that their photos will only be shown to their followers, and they'll also have to approve any future follower requests.
Snapchat
This app, rated 12+ on the AppStore, is extremely popular among young people. Although it has a reputation for being used for sexting, most of the time it isn't.
The major problem with Snapchat is that it promises more privacy than it delivers.
It's known as the disappearing message app because images only appear for 10 seconds before they disappear from your screen. But those images don't get completely deleted at all, and there's also nothing to stop the recipient of the image taking a screenshot and circulating the pic among their friends.
Third party apps have also sprung up which "help" those wanting to save the images. Security on these services is often not very strong – in fact, a recent compromise of third-party service Snapsaved.com led to hundreds of thousands of supposedly "disappeared" images flooding the internet.
Snapchat now says it will do more to warn its customers about using third-party apps, by asking them to remove them and change their passwords.
4chan
This is an image-based bulletin board website, divided into various boards whose subjects range from Pokémon to hardcore pornography.
Now famous as having been part of the great big celebrity nude photo leak, 4chan is the web's wild west frontier and it has a febrile culture – no registration is required and content isn't retained on the site for very long.
At its worst the site is disturbing, graphic and highly sexual. The Guardian once summarized the 4chan community as "lunatic, juvenile… brilliant, ridiculous and alarming."
This is strictly not for kids.
Yik Yak
This is a social chat app that creates an anonymous social chat room of up to 500 nearby users, which makes cyber bullying incredibly easy.
Yik Yak's moderation and monitoring is totally controlled by users – who vote comments up or down.
The app has a rating of 17+ in the AppStore, but there's no way to prevent somebody under the age of 17 from signing up, as parents have pointed out.
Its anonymity has also led to various evacuations of schools after pranks were played:
Tinder
This dating app works by finding singles near your location. Once two people have 'liked' each other's image they can privately message each other.
Although this is supposed to be an adult dating site, anyone over the age of 13 can sign up. The Independent recently reported that 7% of the app's userbase is aged 13-17.
Tinder says its users aged between 13 and 17 will only be able to view others of the same age but, worryingly, the app just takes a user's age from their Facebook profile – something which is pretty easy to change, or even create a fake profile for.
Even forgetting all that, the whole up- and down-voting based on looks alone is bound to ring alarm bells with parents.
Ask.fm
Ask.fm is a social Q&A site. Anonymous users can ask questions of others, the answers to which are then posted on users' profiles.
It has already been linked to cases of cyber bullying, some with fatal consequences.
Ask.fm has since pledged to improve its security "incrementally" from last month, starting with an updated usage policy that will "provide new and enhanced information to our users in important areas, such as how to block and report users or problematic content, how to disable the anonymous feature or block anonymous questions."
Kik Messenger
This is an instant messaging app and is an alternative to texting. Although the App Store rates it 17+ due to "Frequent/Intense Mature/Suggestive Themes," there is no age verification and is popular with younger teens as it's free to download and use.
Kik allows for individual and group messaging, but users whose Kik usernames are shared publicly can also receive messages from strangers, and there have been numerous reports of solicitation by paedophiles.
Protecting your kids online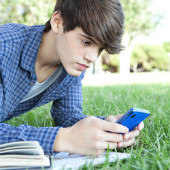 New apps and social networking sites spring up all time. The best way to protect your teens and tweens is to encourage them to be open with you about the apps and platforms they use.
This is certainly not a definitive list of the services to watch out for, nor are any of the apps or websites listed definitively 'bad' – but in the wrong hands, whether malicious or just naive, they can be platforms for abuse.
Put your mind at ease by finding out more about the sites and apps your kids are using:
Is the social networking site anonymous, or do users have to verify who they are, and how?
Can your child receive messages from strangers or send messages to strangers, or is it a closed group?
Do a quick Google search – does the app have known security or privacy concerns?
Check what policies the site has in place for monitoring abusive behaviour, and the controls it puts in place to prevent or stop it.
And above all, teach your child about the implications of sexting, sending pictures of themselves, over-sharing personal information, and bullying, self-bullying and being bullied online.
Here are 10 tips to help keep your kids and teens safe online.
And, if you have any sites or apps that you think should be in the list, please share them in the comments section, below.
Image of teenage boy on smartphone courtesy of Shutterstock.