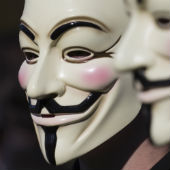 Last Tuesday, the white supremacist group Ku Klux Klan (KKK) dumped trash bags full of flyers that promised to use "lethal force" against protesters in Ferguson, Missouri – a US city that's been boiling with protest as a grand jury decides whether or not to press charges against a white policeman who killed an unarmed black teen in August.
That was a gauntlet that attackers affiliating themselves with the Anonymous brand of hacktivists were happy to pick up.
Over the weekend, two anti-KKK operations were launched: #OpKKK and #HoodsOff.
The attackers managed to hijack two KKK Twitter accounts – @KluKluxKlanUSA and @YourKKKCentral – and four of the group's websites.
The hijackers posted several messages serving up the same type of homicidal messages the KKK itself had dumped on Ferguson, including one with an image of a Klansman being lynched that says "The war is on!"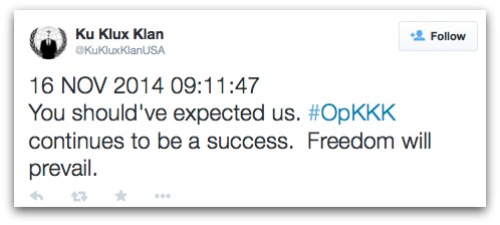 16 NOV 2014 09:11:47
You should've expected us. #OpKKK continues to be a success. Freedom will prevail.
The hijackers also promised a statement which was posted last night.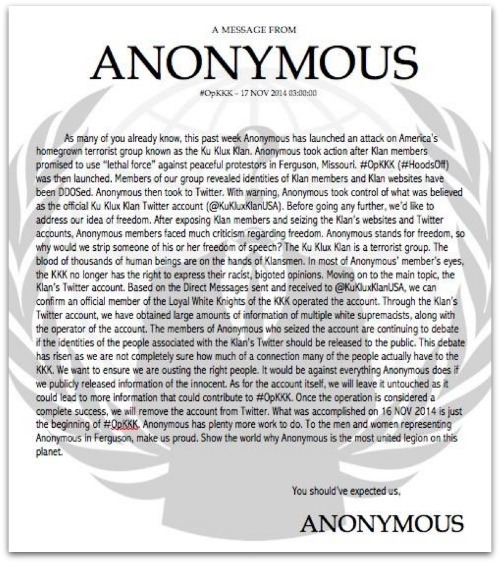 As many of you already know, this past week Anonymous has launched an attack on America's homegrown terrorist group known as the Ku Klux Klan. Anonymous took action after Klan members promised to use "lethal force" against peaceful protestors in Ferguson, Missouri. #OpKKK (#HoodsOff) was then launched. Members of our group revealed identities of Klan members and Klan websites have been DDoSed. Anonymous then took to Twitter. With warning, Anonymous took control of what was believed as the official Ku Klux Klan Twitter account (@KuKluxKlanUSA).

...

Through the Klan's Twitter account, we have obtained large amounts of information of multiple white supremacists, along with the operator of the account. The members of Anonymous who seized the account are continuing to debate if the identities of the people associated with the Klan's Twitter should be released to the public.
As of Tuesday morning, the Twitter accounts were still branded with the Anonymous logo.
Anonymous's actions are, of course, illegal, though the internet was - unsurprisingly, given the target - full of cheering for the attackers' actions.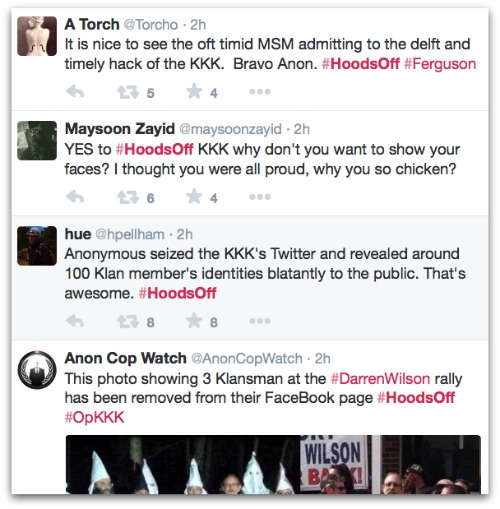 The people whose information Anonymous is doxing haven't been charged with hate crimes (at least not that we know of), haven't been investigated by law enforcement bodies and linked to the distribution of threatening flyers (that we know of), and thus have been targeted by a cyber mob without having received due justice.
Illegal posting of others' personal information isn't the way to solve the enormous problems of racism, no matter how satisfying it is to knock a group like the KKK down to the ground.
Image of Anonymous masks courtesy of Rob Kints / Shutterstock.com.