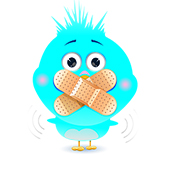 Twitter on Tuesday announced that every single public tweet made since the dawn of Twitter – that would be AD 2006 – is now being indexed.
That includes hundreds of billions of tweets, the company said, including major historical events.
Think in sweeping historic terms.
Think #JapanEarthquake, #Election2012, #ScotlandDecides, #HongKong, #Ferguson.
Think also, "things I'd like to sweep under the carpet", or what Twitter calls our "everyday human experiences".
Think #hatemyboss…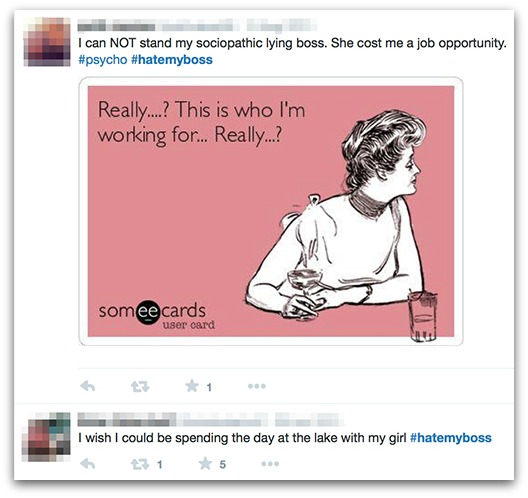 …or #hungoveratwork.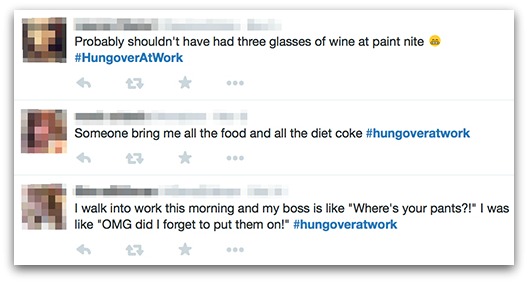 Now might be a fine time to scrub your Twitter timeline to get rid of such things – or perhaps take a fire hose to it, depending on just how messy your life and your tweeting history has been for the past 8 years.
Here are some of your options, but first, you might want to:
Make yourself a copy before you go nuclear. Before you lunge for the delete button, you might want to save your old tweets for your own, personal amusement – or perhaps for your biographer, if you plan to do something epic.
To do that, click your profile icon in the top right of your browser, choose Settings, scroll down, and click "Request your archive." Twitter will email you a link when the file is ready to be downloaded.
Panic and delete your entire account. You can always deactivate your Twitter account entirely.
Your data will remain in Twitter's archives for 30 days, during which you might well change your mind. Logging back into the account at any time during those 30 days will reactive your account.
After that, it's gone for good.
Well, it's gone from Twitter, at any rate. Bear in mind that Twitter doesn't control content indexed by search engines like Google or Bing, though, so it's quite possible that your old tweets will live on somewhere out there.
Proceed with caution, though. After all, do you really want to say goodbye to your accounts' followers?
You will lose them, even if you (or somebody who likes your account name and who acts fast) set up a new account with the same username.
Target the worst of the bunch. This is good for targeting specific tweets. To find the bad ones, go to search.twitter.com, type in your Twitter handle, plus other keywords you might have used, such as "hate my job".
Once you've located the noxious tweets, you can click the "…" (more) icon and click "delete tweet."
Goodbye, incriminating evidence! Hope to never see you again!
Time-specific amnesia? Some news outlets are pointing to third party services which promise to delete specific slices of your Twitter history – from all tweets more than a week old to anything more than 1 year old.
Should you use them? Perhaps not.
The Snappening catastrophe, wherein security problems with third-party service SnapSaved led to the interception of thousands of SnapChat images, was only the latest incident to bring home the fact that third-party sites that demand your login information don't necessarily protect it with the care that (one hopes) the first-party site offers.
Whichever route you choose, it's smart for all of us to take this opportunity to check out our timelines.
The holiday season is fast upon us, after all.
Wouldn't want the Dickensian Ghost of Twittiocy to haunt us with tweets past, now that Twitter's developed its time machine!