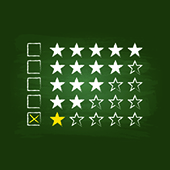 A UK hotel has come up with a way to fend off all the thumbs-down that are clotting up its online reviews: rather than upping the thread count on their sheets or, say, introducing a vacuum cleaner to the dining room a bit more frequently, they're promising to charge customers £100 for bad reviews.
The hotel – Broadway Hotel, Blackpool – must be raking it in, given that out of 255 reviews on TripAdvisor, 146 of them rate the place as bottom-of-the-barrel "terrible".
One of the hotel's bad reviews comes from Tony and Jan Jenkinson.
The Whitehaven couple spent one night in the hotel where, other reviewers say, the cutlery is "filthy", the breakfast "disgusting", the beds are on a "strange slant", and the bathroom door doesn't always shut when you're on the loo.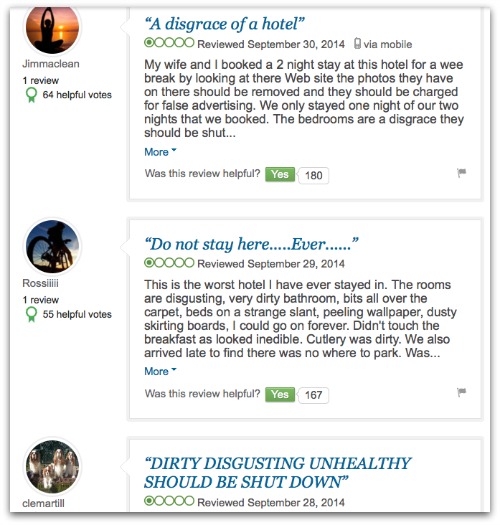 Well, the Broadway Hotel now believes that it's time for the Jenkinsons to pay up for having the audacity to not enjoy their stay.
After leaving a bad review in which they called the hotel a "rotten stinking hovel", the couple were greeted with a £100 "fine" on their credit card statement, according to the BBC.
It's not like the couple hadn't been warned that it would happen – it was there in teensy tiny type on the booking document that Jan couldn't read, since she wasn't wearing her reading glasses.
After all, the hotel's policy is to charge for bad reviews.
Its typographically itty-bitty policy starts out reasonably enough:
Despite the fact that repeat customers and couples love our hotel, your friends and family may not.
… but goes on to eensie-weensily inform customers that being honest about their accommodations in online reviews has nasty consequences:
For every bad review left on any website, the group organiser will be charged a maximum £100 per review.
The BBC reports that the matter's being investigated by Trading Standards, which handles consumer protection in the UK.
John Greenbank, north trading standards area manager, told the BBC that Broadway Hotel has come up with a "novel" way to prevent bad reviews:
I have worked for trading standards for many years and have never seen anything like this.

The hotel management clearly thinks they have come up with a novel way to prevent bad reviews. However, we believe this could be deemed an unfair trading practice.
"Novel"?
That's actually giving the hotel more credit for originality than it deserves.
This shtick is not novel at all. In fact, California passed a bill in September that protects customers from getting penalized by companies after writing bad reviews.
The so-called Yelp Bill was passed in order to protect consumers against non-disparagement clauses that businesses sneak into consumer contracts and which forbid customers from leaving negative reviews on sites like Yelp or TripAdvisor.
Such non-disparagement contracts threaten fines or legal action that work against the sharing of honest customer experiences, Yelp said at the time.
Businesses that have pulled this trick include a swanky New York hotel that was telling wedding couples that it would deduct $500 from their deposit for any guest who groused about it online.
The Jenkinsons are trying to get a refund from their credit card company.
Councillor John McCreesh, cabinet member for trading standards, told the BBC that businesses should worry more about giving good service, less about trying to muzzle unhappy customers:
Customers need to be free to be honest about the service they're getting.

Other customers depend upon it. Hotel owners should focus on getting their service right rather than shutting down aggrieved customers with threats and fines.

People should have the right to vent their disappointment if a hotel stay did not meet their expectations and should not be prevented from having their say.
Image of one star review courtesy of Shutterstock.