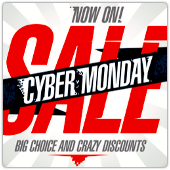 Next week sees the turbocharger kick in for US retailers.
Thursday, November 27, 2014 is the Thanksgiving holiday, when Americans give thanks for the year's harvest by joining their family to eat roast turkey and drink sack posset.
[Not so much of the sack posset since 1776 – Ed.]
Then comes Black Friday, November 28, 2014.
Black Friday gets its name because the holiday shopping spree starts, pushing retailers (or so they hope) out of the red and into profitability for the year.
And once the shopping bug has bitten, but you are back at work, you'll want to take advantage of Cyber Monday on December 1, 2014, to snap up yet more bargains online.
Ironically, in many of the big data breach stories of the past year, online purchasers ended up safer than in-store purchasers.
That's because the crooks who plundered hundreds of millions of payment card numbers from Target, Home Depot and others were stealing their data right from the retailers' own in-store point-of-sale (PoS) cash registers, not from web browsers or web servers.
Of course, that doesn't mean you should eschew "bricks-and-mortar" retail stores (even if most of them are made of metal-and-concrete these days), and it certainly doesn't mean that if you shop online instead, you will automatically be safe.
Indeed, on Cyber Monday, or indeed any time when people who don't usually go shopping online get drawn in by the promise of good bargains, you can just imagine the cybercrooks rubbing their hands in glee.
So, with our friends at CIS, the Center for Internet Security, we're co-hosting a Twitter chat on Tuesday, November 25, 2014 at 2pm EST. [2014-11-25T14:00-5]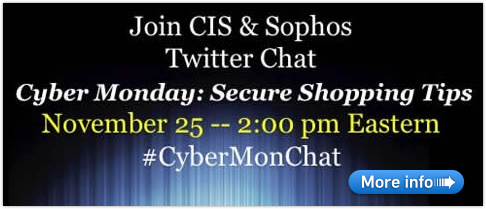 We'd love you to join in.
We'll be sharing tips for staying smart and safe online.
Best of all, even though this Twitter chat is geared towards the forthcoming retail season, the tips we'll be sharing will help protect you all year round, at work and at home.
So join us for an informal event that will help you to stay one step ahead of the crooks, now and in the future.
What is a Twitter chat?
A Twitter chat is a Twitter event that allows you to get one-on-one advice from experts, and feedback from the community.
You just tweet your question and include a specific hashtag.
Any answers will include the same hashtag, so searching for (or following) that hashtag is all you need to do to be part of the event.
Do I need to sign up?
Not at all. The whole idea of a Twitter chat is you can join in as and when you feel like it:
Take a note of the time period – #CyberMonChat is 2pm to 3pm EST on Tuesday, November 25, 2014.
During the event, simply search for #CyberMonChat at any time to see the latest questions and answers.
To ask or answer a question yourself, simply Tweet it with the text #CyberMonChat in there somewhere.
That's it.
You might also like to follow one or more of the co-hosts on Twitter:
Do I need any special software?
No. A web browser is fine.
Use the Twitter search URL https://twitter.com/#CyberMonChat to follow proceedings.
Use Twitter's [Tweet] button to ask your question or have your say.
Is there software to make it easier than that?
Yes.
Software like Tweetdeck or Hootsuite lets you automatically "follow" a hashtag, so new comments in the Twitter chat will show up automatically in a special window or column.
Can I take part while I am at work?
Of course you can!
(But the question of whether you may is a matter for your employer, so please make sure your boss doesn't mind. Better yet, see if you can get them to join in, too. When it comes to computer security, many hands really do make light work.)
As we already mentioned, although Cyber Monday and online shopping are the primary themes of this Twitter chat, the issues we'll be discussing will be relevant to your entire digital life, at work as well as at home, now and in the future.
Can I invite my colleagues, friends and family along too?
Please do!