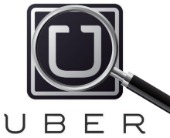 Ridesharing company Uber has had a bumpy ride this week.
The San Francisco-based company found itself having to:
You'd think that would be enough privacy fiasco for one week, but apparently not.
Uber, as apologetic as it was, still hasn't answered any of a number of questions about the one million dollars that Michael suggested the company could use to hire four opposition researchers and four reporters to discredit journalists, nor about how it mines and uses customers' personal information.
Now, US Senator Al Franken is aiming to coax some of those answers from Uber.
Franken, chairman of the Senate Subcommittee on Privacy, Technology and the Law, on Wednesday sent a letter to Uber CEO Travis Kalanick with 10 pointed questions about the company's lackadaisical approach to privacy.
On Wednesday, Uber for the first time released its privacy policy – a policy it says has been in effect internally but that it never published.
It refers to a "strict policy prohibiting all employees at every level from accessing a rider or driver's data" except for "legitimate business purposes".
Any violations of the policy will result in "disciplinary action", the policy states.
OK, Senator Franken said in his letter, how does that policy jibe with Uber's actual practices, given that Uber reportedly makes private information widely available throughout the company?
It does so with an internal tool, known as "God view", that shows the location of Uber vehicles and customers who've requested a car, BuzzFeed reports.
One such incident has come to light, Franken said, referring to the tracking of a female journalist as she travelled via Uber rides to an interview with the company:
In at least one incident, a corporate employee reportedly admitted to using the tool to track a journalist. The journalist's permission had not been requested, and the circumstances of the tracking do not suggest any legitimate business purpose.
As well, Franken said, the "Rides of Glory" data-mining, which Uber wrote about on its blog in 2012, points to the company condoning use of customers' data "for questionable purposes".
Senator Franken gave the company 28 days – until 15 December – to answer.
I'll be very curious to read Uber's answers to Franklin's questions.
As it now stands, Uber's privacy policy reads like smoke and mirrors to me: a scant few, vague paragraphs thrown together and hastily published to appease public opinion.
Image of magnifying glass courtesy of Shutterstock.