Google, the company famed for its motto of "don't be evil", has invited internet users to pay a monthly fee instead of continuing to see Google-served adverts on their favourite websites.
Any user willing to hand over $1, $2 or $3 per month via its Contributor program will see pixelated patterns and a message of thanks on selected websites instead of the ads served up by Google's AdSense program.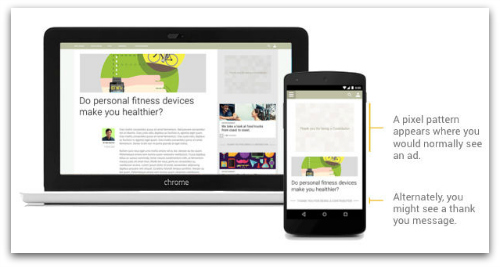 The system, which launched on Thursday, is still very much in its infancy and only 10 high profile web properties are currently participating, including Urban Dictionary, The Onion, Science Daily, Imgur, wikiHow and Mashable.
Third party advertisements remain unaffected and will continue to be displayed as they are now.
Google says that when you visit a participating website, some of the money you've paid will go straight to that website to "directly support the people who create the sites you visit each day".
In typical Google fashion, users interested in signing up cannot immediately jump on board – the company has implemented an invitation system that requires users to sign up with their email address and then wait an unspecified amount of time for a spot to open up.
Google describes Contributor as "an experiment in additional ways to fund the web", adding:
Today's internet is mostly funded by advertising. But what if there were a way to directly support the people who create the sites you visit each day?
Only time will tell whether or not Google's new approach will persuade users to part with a small monthly fee – it could well hinge on how many more publishers sign up for Contributor.
Although $1/month required to block adverts may seem trivial to some, others may prefer the tried and tested way of minimising advertising – ad blockers – which can zap far more than just Google's adverts.
Should the system prove successful, it would represent a massive change in the way that the web funds itself, lessening the need for millions of websites to collect information from their visitors into the bargain.
Whether internet users would see that as a positive or not would of course depend on their view of Google, which itself would still be collecting data about which sites people visit and how they consume the content on each.
So how do you feel about the new Google Contributor system?
Would you pay a monthly fee to support your favourite websites while minimising the number of adverts you see on them? Perhaps adverts don't bother you and you're happy with the way things are?
Or do you just use an ad blocker because you are sick and tired of being bombarded with adverts everywhere you go?
Please let us know via the poll and comments below.