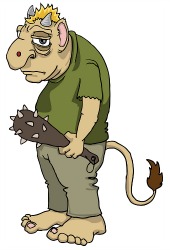 Since 2011, an unknown internet troll has allegedly been lying about UK businessman Daniel Hegglin, calling him – among other things – a Mafioso, a Ku Klux Klan sympathizer, a paederast, a "bribed worm", and a "Naziterrorist principal of murders".
Three years after first discovering some 3600 abusive, defamatory postings along those lines and having taken Google to court in order to get them taken down, Hegglin has reached a settlement with the company.
When Hegglin first requested that Google block the anonymous posts from its search results, the company asked him to provide a list of web links to be removed.
That would be all but impossible, Hegglin said, given that listing thousands of posts for Google to remove would be expensive, time consuming, and ineffective.
Details of the settlement, reached on Sunday, haven't been disclosed, but some of the search results have already come down.

Hegglin told the BBC that although Google didn't create the smear campaign, its search engines have allowed the abuse to spread.
Thus, he was seeking a legal order to force Google to take steps to prevent the abusive posts being processed in searches in England and Wales.
As of Tuesday, the top link returned by a Google search in the UK on Hegglin's name was still trollery, it being a diatribe on Facebook against Hegglin.
There was more abusive and expletive-filled content further down the search results too.
Hugh Tomlinson QC told Mr Justice Jay at a High Court hearing that Google, being sympathetic to Hegglin, was doing what it could to remove the trollery.
Not that Google takedowns will solve the problem entirely, he said, but it will at least let the businessman concentrate on finding the person or persons behind the campaign:
The settlement includes significant efforts on Google's part to remove the abusive material from Google-hosted websites and from its search results. Mr Hegglin will now concentrate his energies on bringing the person responsible for this campaign of harassment to justice.
Anthony White QC, for Google, said Hegglin's case was "exceptional … in terms of its prominence and volume."
Hegglin, quoted by the BBC outside the court, said he was
very pleased the dispute had been resolved to both parties' mutual satisfaction.
Image of troll courtesy of Shutterstock.