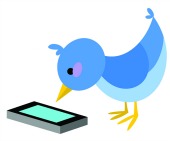 It's fair to say that Twitter's ahead of many of the social networks when it comes to privacy.
You can see why: last year it added forward secrecy to its web servers, which prevents third parties from getting into past information with crusty old encryption keys; it uses always-on HTTPS; it recently encrypted users' Twitter email with StartTLS; it scored a perfect rating in the Electronic Frontier Foundation's "Who Has Your Back" report; and it was the top-ranking company on the Online Trust Alliance's ranking of websites on privacy, security, and consumer protection.
But even Twitter can't keep users from making their own blunders like, say, mistakenly sending a direct message as – d'oh!!! – a public Tweet.
Twitter can't stop such thick-fingered gaffes even if a user is a top Twitter exec, the case in point now being chief financial officer Anthony Noto.
As the BBC reported on Tuesday, Mr. "Oh, no!" Noto meant to send a direct, private message to a colleague, but that message accidentally went out as a public tweet.
He isn't the first to have made this mistake. One of the more – shall we say vivid – DM gaffes came from Former New York congressman Anthony Weiner, who accidentally posted a picture of his boxer-tenting erection.
At first, Weiner claimed he had been "hacked", but in the face of evidence pointing to the extremely dubious nature of that claim – namely, he hadn't even bothered to file a police report – Weiner later wound up admitting he had intended to send the image as a direct message.
Unless you're an investor, you won't find Twitter CFO Noto's message quite as titillating as Weiner's.
In fact, it expressed Noto's desire to gobble up another company.
Noto deleted the Tweet, but not before journalists grabbed it:

I still think we should buy them. He is on your schedule for Dec 15 or 16 -- we will need to sell him. i have a plan.
What company was he referring to? It's anybody's guess, and people are indeed guessing away.
Re/code had already published a list of potential acquisition targets for Twitter in October, and it's taken this opportunity to refresh it.
Among others, the top contenders include the selfie app Shots, multimedia app Storehouse, the news site Mic News (Noto recently followed four of its editors), or maybe anonymous social network Secret,
Would any of those services help to stop people from accidentally sending direct messages as public Tweets?
Well, maybe not. Re/code's sources say Twitter's not looking to buy a standalone messenger.
But given Noto's gaffe, it well might be time to reconsider that.
Image of bird courtesy of Shutterstock.