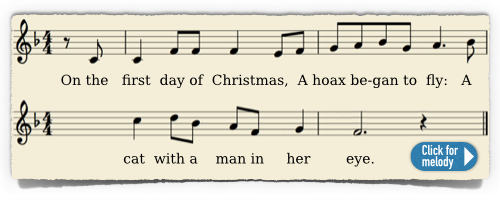 Here's the melody – click to sing along!

Well, OK, it was February, and there most definitely wasn't a miniature paedophile camped out in the dilated pupils of popular cartoon cat app Talking Angela.
But that didn't stop a tidal wave of people claiming there was.
The Talking Angela tsunami broke with spectacular effect in February 2014, a year after we first reported on it. A conspiracy theory that started in 2013 with people expressing unease about the questions that Outfit7's furry chat bot asked had morphed into an all-consuming internet meme that was as catchy as it was ugly and preposterous.
If you don't believe me, just read the comments people left on our article: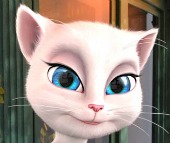 The Talking Angela witch hunt –
what on earth is going on?
And for your chance to win an exclusive, limited edition, Naked Security T-shirt, work out the answer to Paul Ducklin's Talking Angela brain teaser below…
This December we're celebrating Christmas by giving away five of our much-coveted, limited edition Naked Security T-shirts every day for 12 days!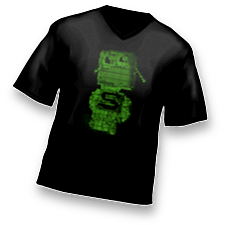 We've selected twelve of the most interesting stories from 2014 and we'll be writing about one of them each day.
All you have to do to win a T-shirt is read the story and answer the question.
We'll pick 5 lucky winners out of a hat (OK, /dev/urandom) each day and those who answer the most questions correctly over the 12 days will be entered into our grand prize draw for a goody bag of geeky gifts valued at up to $500!
We need to know your email address so that we can contact you if you've won. When we contact you, we'll need your T-shirt size, a delivery address and a contact number so we can ship your prize. We won't use any of your personal details for anything other than this competition.
Entries close at 23:59 Pacific Standard Time (UTC-8) each day. Sophos staff, those pro­fessionally connected to the company, and their families, are welcome to submit answers for fun, but can't win. T-shirt styles may vary from those depicted. Sophos's decision is final, and so on. Please read our official competition terms and conditions.