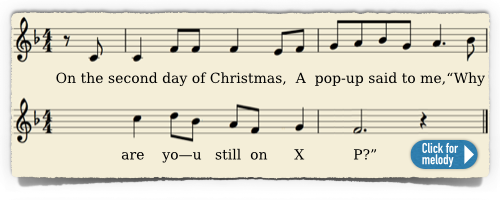 Here's the melody – click to sing along!

Windows XP has passed on.
It is no more. It has ceased to be. It has expired and gone to meet its maker. It's a stiff. Bereft of life, it rests in peace. If you hadn't ignored the end of life announcements it would be pushing up daisies. It's history. It's off the twig. Kicked the bucket, it's shuffled off this mortal coil, run down the curtain and joined the choir invisible.
It is an Ex-P: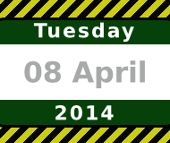 It's Goodbye, Farewell
and Amen for Windows XP
For your chance to win an exclusive, limited edition, Naked Security T-shirt, work out the answer to Paul Ducklin's XP brain teaser below…
This December we're celebrating Christmas by giving away five of our much-coveted, limited edition Naked Security T-shirts every day for 12 days!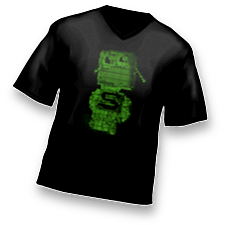 We've selected twelve of the most interesting stories from 2014 and we'll be writing about one of them each day.
All you have to do to win a T-shirt is read the story and answer the question.
We'll pick 5 lucky winners out of a hat (OK, /dev/urandom) each day and those who answer the most questions correctly over the 12 days will be entered into our grand prize draw for a goody bag of geeky gifts valued at up to $500!
We need to know your email address so that we can contact you if you've won. When we contact you, we'll need your T-shirt size, a delivery address and a contact number so we can ship your prize. We won't use any of your personal details for anything other than this competition.
Entries close at 23:59 Pacific Standard Time (UTC-8) each day. Sophos staff, those pro­fessionally connected to the company, and their families, are welcome to submit answers for fun, but can't win. T-shirt styles may vary from those depicted. Sophos's decision is final, and so on. Please read our official competition terms and conditions.
What was Day 1's answer?
On Day 1, we wrote about Talking Angela, the animated game for mobile devices featuring a talking cat.
We asked, "If Angela were a parrot, what would be her name?"
The most common incorrect answers we received were Angela (we like your thinking, but that doesn't make it the right answer) and Polly.
You can find the correct answer in our hoax-avoidance tips.
Outfit7, the makers of Talking Angela, have published a number of related games featuring other creatures, including Talking Pierre the Parrot.