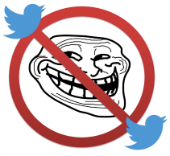 Twitter is making changes which should make it easier and quicker for users to report abuse or flag inappropriate content.
A new reporting feature, changes to how flagged tweets are dealt with and enhancements to the blocking feature were announced via a blog post on Tuesday.
Twitter states that its reporting feature will be improved to make it more mobile-friendly and the amount of information required to flag a tweet or account for review will be reduced.
The changes will also be implemented for third parties, meaning those who observe abusive messages or accounts will also be able to report them, even if they are not directly affected by them.
The company plans to implement other back-end changes to its tools and processes which will enable it to respond to abuse quicker than before.
Twitter is also introducing a new page – reached via a user's settings menu on Twitter.com – that will detail all the accounts they have blocked.
Currently, tweets from a blocked account are prevented from appearing in a user's timeline but the controller of the account can still view their profile.
When the new changes come into effect, "blocked" really will mean blocked and abusers will lose the ability to continue viewing a victim's profile.
The safety enhancements are not currently available to everyone just yet though – the company has only rolled them out to a handful of users so far – but everyone is expected to see the changes in the near future.
But Twitter isn't stopping there. Users of the social network can expect to see more safety changes to come:
You can expect to see additional user controls, further improvements to reporting and new enforcement procedures for abusive accounts. We'll continue to work hard on these changes in order to improve the experience of people who encounter abuse on Twitter.
Twitter has previously seen some criticism over the way it handles abuse, but the recent blog post helps to shed some light on the scale of the problem it faces from a minority of users who engage in online harassment or trolling:
Everything that happens in the world, happens on Twitter - to the tune of more than 500 million Tweets every day. That can sometimes include content that violates our rules around harassment and abuse and we want to make it easier to report such content.
Twitter has seen some high profile cases of abuse on its network recently – Sara Payne, whose daughter Sarah was murdered by a paedophile in 2000, quit Twitter after enduring years of abuse, comedian John Bishop dumped Twitter over abusive messages aimed at his family and the daughter of the late Robin Williams felt compelled to take a temporary break from Twitter after idiots sent her a photoshopped image purporting to show her father's body.
Beyond the risk of being banned for abuse, the consequences for those spewing bile and hatred on Twitter have been minimal until recently.
In the UK, the Communications Act 2003 makes it an offence to "send by means of a public electronic communications network a message or other matter that is grossly offensive or of an indecent, obscene or menacing character" – but prosecutions have been few and far between.
Earlier this year, Isabella Sorley became one of the first people to be jailed in the UK, serving six weeks after tweeting abusive messages to Caroline Criado-Perez, a feminist who had successfully campaigned to have a woman appear on new bank notes.
The maximum sentence for such an offence is currently six months imprisonment and a fine of up to £5,000, though proposed changes to the law could see the jail time quadrupled to two years of detention.